| | |
| --- | --- |
| App ID | 616820 |
| App Type | Game |
| Supported Systems | Windows |
| Last Change Number | 13269263 |
| Last Record Update | 28 November 2021 – 14:37:32 UTC () |
| Release Date | To be announced. |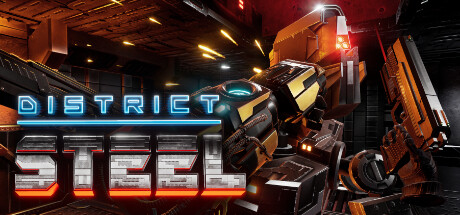 District Steel is a full locomotion VR action game, inspired by the FPS classics. Blast your way through the underground SenTRI facility, equipped with a mechanical arm that gives time bending powers and a selection of deadly weapons.
0 players right now
0 24-hour peak
2 all-time peak
Copy this code and paste it into your website:
<iframe src="https://steamdb.info/embed/?appid=616820" height="389" style="border:0;overflow:hidden;width:100%" loading="lazy"></iframe>
High-resolution Steam charts
Due to constant crawling, charts data is limited. You can login to view full data.
Initializing graph of a week…
Lifetime concurrent players on Steam
Initializing graph of a year…
Concurrent players
0 players right now
0 24-hour peak
2 all-time peak
Twitch Stats
0 viewers right now
0 24-hour peak
13 all-time peak
Steam game hub followers chart
Initializing followers chart…
Monthly breakdown
Login to see a player breakdown per month.
How many players are playing District Steel right now on Steam? There are 0 players in District Steel on Steam. District Steel player counter. District Steel Steam charts.
Packages that include this app
| SubID | Name | Billing Type | Last Update |
| --- | --- | --- | --- |
| 165405 | Steam Sub 165405 | CD Key | 29 March 2017 – 07:46:14 UTC |
| 165406 | Dimension Dude for Beta Testing | CD Key | 31 August 2020 – 12:13:32 UTC |
| 165407 | District Steel | Store or CD Key | 3 December 2017 – 23:11:50 UTC |
Want to highlight which packages you own? Install our browser extension
Other apps that reference this app
Loading…
History
Crunching history, just for you…