| | |
| --- | --- |
| App ID | 1759780 |
| App Type | Game |
| Store Name | Terminal illness Rogue Horror Space Shooter |
| Developer | Flgaming |
| Publisher | Flgaming |
| Supported Systems | Windows |
| Last Change Number | 13015544 |
| Last Record Update | 1 November 2021 – 14:34:49 UTC () |
| Release Date | 13 October 2021 – 09:45:25 UTC () |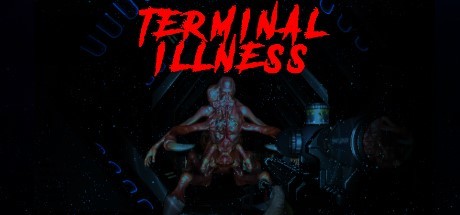 Nasa Has Lost Contact Terminal 25B a Research Team Out in Space That Has Made a Troubling Discovery That You Have to Investigate Solve Puzzles', Find Room Codes, Find Weapons' And Retrieve The Organism Samples This Game is a Horror Rogue Like Space Shooter Puzzle Slover
Currency
Current Price
Converted Price
Lowest Recorded Price
U.S. Dollar
$2.99
$2.99
$2.99
$2.99
British Pound
£2.09
$2.78
-6.74%
$2.78
£2.09
Euro
2,39€
$2.70
-9.52%
$2.70
2,39€
Russian Ruble
82 ₽
$1.08
-63.70%
$1.08
82 ₽
Brazilian Real
N/A
N/A
N/A
Japanese Yen
¥ 310
$2.73
-8.51%
$2.73
¥ 310
Indonesian Rupiah
Rp 24999
$1.73
-42.00%
$1.73
Rp 24999
Malaysian Ringgit
RM8.50
$2.00
-32.94%
$2.00
RM8.50
Philippine Peso
₱99.95
$1.97
-33.80%
$1.97
₱99.95
Singapore Dollar
S$3.25
$2.37
-20.73%
$2.37
S$3.25
Thai Baht
฿63.00
$1.86
-37.46%
$1.86
฿63.00
Vietnamese Dong
43000₫
$1.89
-36.62%
$1.89
43000₫
South Korean Won
₩ 3300
$2.75
-7.71%
$2.75
₩ 3300
Turkish Lira
₺6,20
$0.49
-83.31%
$0.49
₺6,20
Ukrainian Hryvnia
59₴
$2.17
-27.17%
$2.17
59₴
Mexican Peso
Mex$ 37.29
$1.70
-43.08%
$1.70
Mex$ 37.29
Canadian Dollar
CDN$ 3.39
$2.65
-11.36%
$2.65
CDN$ 3.39
Australian Dollar
A$ 4.50
$3.20
+7.20%
$3.20
A$ 4.50
New Zealand Dollar
NZ$ 3.69
$2.51
-15.84%
$2.51
NZ$ 3.69
Norwegian Krone
20,50 kr
$2.25
-24.45%
$2.25
20,50 kr
Polish Zloty
10,99zł
$2.63
-11.71%
$2.63
10,99zł
Swiss Franc
CHF 3.00
$3.24
+8.68%
$3.24
CHF 3.00
Chinese Yuan
¥ 15
$2.34
-21.53%
$2.34
¥ 15
Indian Rupee
₹ 125
$1.66
-44.30%
$1.66
₹ 125
Chilean Peso
CLP$ 1500
$1.80
-39.71%
$1.80
CLP$ 1500
Peruvian Sol
S/.7.50
$1.86
-37.76%
$1.86
S/.7.50
Colombian Peso
COL$ 6500
$1.63
-45.21%
$1.63
COL$ 6500
South African Rand
R 27.00
$1.65
-44.51%
$1.65
R 27.00
Hong Kong Dollar
HK$ 18.00
$2.30
-22.81%
$2.30
HK$ 18.00
Taiwan Dollar
NT$ 66
$2.36
-20.79%
$2.36
NT$ 66
Saudi Riyal
7.95 SR
$2.11
-29.12%
$2.11
7.95 SR
U.A.E. Dirham
9.00 AED
$2.45
-18.05%
$2.45
9.00 AED
Argentine Peso
ARS$ 39,99
$0.39
-86.73%
$0.39
ARS$ 39,99
Israeli New Shekel
₪10.95
$3.43
+15.03%
$3.43
₪10.95
Kazakhstani Tenge
650₸
$1.50
-49.77%
$1.50
650₸
Kuwaiti Dinar
0.65 KD
$2.14
-28.20%
$2.14
0.65 KD
Qatari Riyal
8.19 QR
$2.24
-24.77%
$2.24
8.19 QR
Costa Rican Colon
₡1400
$2.18
-26.81%
$2.18
₡1400
Uruguayan Peso
$U72
$1.62
-45.50%
$1.62
$U72
CIS - U.S. Dollar
$2.19
$2.19
-26.76%
$2.19
$2.19
South Asia - USD
$1.89
$1.89
-36.79%
$1.89
$1.89
Click on a currency name to load price history for that currency.
Valve suggested prices are displayed on packages page.
Initializing price history graph…
User Tags
Survival Horror
Rogue-like
Action Roguelike
Strategy
Psychological Horror
Stealth
Exploration
Realistic
Shooter
Rogue-lite
PvP
Action-Adventure
Atmospheric
Shoot 'Em Up
Adventure
Horror
Puzzle
RPG
Interactive Fiction
Dark Fantasy
0 players right now
1 24-hour peak
2 all-time peak
Copy this code and paste it into your website:
<iframe src="https://steamdb.info/embed/?appid=1759780" height="389" style="border:0;overflow:hidden;width:100%" loading="lazy"></iframe>
High-resolution Steam charts
Due to constant crawling, charts data is limited. You can login to view full data.
Initializing graph of a week…
Lifetime concurrent players on Steam
Initializing graph of a year…
Concurrent players
0 players right now
1 24-hour peak
2 all-time peak
Steam game hub followers chart
Initializing followers chart…
Monthly breakdown
| Month | Peak | Gain | % Gain | Min Daily Peak | Avg Daily Peak | Twitch Peak |
| --- | --- | --- | --- | --- | --- | --- |
How many players are playing Terminal illness right now on Steam? There are 0 players in Terminal illness on Steam. Terminal illness player counter. Terminal illness Steam charts.
Packages that include this app
| SubID | Name | Billing Type | Last Update |
| --- | --- | --- | --- |
| 631010 | Terminal illness | Store or CD Key | 19 October 2021 – 16:09:42 UTC |
Want to highlight which packages you own? Install our browser extension
Depots
| ID | Name | Max Size | OS | Extra Info |
| --- | --- | --- | --- | --- |
| 1759781 | Terminal illness Content | 1.44 GiB | | |
Branches
Other
| Name | Value |
| --- | --- |
| hasdepotsindlc | 1 |
Raw Information
You have to be signed in to load raw depot data
Launch Options
Configuration
| Key | Value |
| --- | --- |
| installdir | Terminal illness |
| uselaunchcommandline | 1 |
Other apps that reference this app
Loading…
History
Crunching history, just for you…