| | |
| --- | --- |
| App ID | 1730980 |
| App Type | Game |
| Store Name | 死前30天 |
| Developer | Kwing works |
| Publisher | Kwing works |
| Supported Systems | Windows |
| Last Change Number | 13255611 |
| Last Record Update | 26 November 2021 – 14:08:04 UTC () |
| Release Date | 13 October 2021 – 02:30:58 UTC () |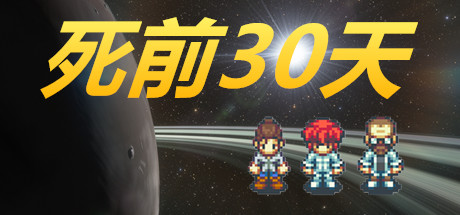 你是工作在异星太空站上的员工,突然!全体船员感染了致命的太空病毒,生命只剩30天!而公司领导以不可抗力为由,拒绝赔付医疗保险!也拒绝任何救助!只剩30天了,食物不足,氧气不足,太空站上各种故障,脚下多颗神秘的异星球....你们要如何生存下去,对抗草菅人命的巨型公司?来!赶快行动起来!你只剩30天!
Currency
Current Price
Converted Price
Lowest Recorded Price
U.S. Dollar
$4.99
$4.99
$4.99
$4.99
British Pound
£3.99
$5.32
+6.69%
$5.32
£3.99
Euro
3,99€
$4.51
-9.49%
$4.51
3,99€
Russian Ruble
133 ₽
$1.76
-64.72%
$1.76
133 ₽
Brazilian Real
R$ 10,89
$1.94
-61.10%
$1.94
R$ 10,89
Japanese Yen
¥ 520
$4.58
-8.04%
$4.58
¥ 520
Indonesian Rupiah
Rp 39999
$2.77
-44.39%
$2.77
Rp 39999
Malaysian Ringgit
RM12.50
$2.94
-40.91%
$2.94
RM12.50
Philippine Peso
₱159.95
$3.16
-36.52%
$3.16
₱159.95
Singapore Dollar
S$5.25
$3.82
-23.27%
$3.82
S$5.25
Thai Baht
฿99.00
$2.93
-41.11%
$2.93
฿99.00
Vietnamese Dong
70000₫
$3.08
-38.18%
$3.08
70000₫
South Korean Won
₩ 5500
$4.59
-7.83%
$4.59
₩ 5500
Turkish Lira
₺10,50
$0.84
-83.07%
$0.84
₺10,50
Ukrainian Hryvnia
99₴
$3.65
-26.78%
$3.65
99₴
Mexican Peso
Mex$ 57.99
$2.64
-46.96%
$2.64
Mex$ 57.99
Canadian Dollar
CDN$ 5.69
$4.44
-10.85%
$4.44
CDN$ 5.69
Australian Dollar
A$ 7.50
$5.34
+7.06%
$5.34
A$ 7.50
New Zealand Dollar
NZ$ 6.29
$4.28
-14.04%
$4.28
NZ$ 6.29
Norwegian Krone
37,00 kr
$4.07
-18.29%
$4.07
37,00 kr
Polish Zloty
17,99zł
$4.32
-13.40%
$4.32
17,99zł
Swiss Franc
CHF 5.00
$5.41
+8.54%
$5.41
CHF 5.00
Chinese Yuan
¥ 19.99
$3.12
-37.34%
$3.12
¥ 19.99
Indian Rupee
₹ 199
$2.65
-46.86%
$2.65
₹ 199
Chilean Peso
CLP$ 2400
$2.88
-42.20%
$2.88
CLP$ 2400
Peruvian Sol
S/.11.50
$2.85
-42.81%
$2.85
S/.11.50
Colombian Peso
COL$ 9900
$2.49
-50.00%
$2.49
COL$ 9900
South African Rand
R 42.00
$2.58
-48.28%
$2.58
R 42.00
Hong Kong Dollar
HK$ 26.00
$3.33
-33.19%
$3.33
HK$ 26.00
Taiwan Dollar
NT$ 94
$3.37
-32.41%
$3.37
NT$ 94
Saudi Riyal
11.95 SR
$3.18
-36.16%
$3.18
11.95 SR
U.A.E. Dirham
15.00 AED
$4.08
-18.16%
$4.08
15.00 AED
Argentine Peso
ARS$ 67,99
$0.67
-86.48%
$0.67
ARS$ 67,99
Israeli New Shekel
₪18.50
$5.81
+16.45%
$5.81
₪18.50
Kazakhstani Tenge
1050₸
$2.42
-51.38%
$2.42
1050₸
Kuwaiti Dinar
1.10 KD
$3.63
-27.19%
$3.63
1.10 KD
Qatari Riyal
12.99 QR
$3.56
-28.50%
$3.56
12.99 QR
Costa Rican Colon
₡2400
$3.75
-24.82%
$3.75
₡2400
Uruguayan Peso
$U120
$2.71
-45.57%
$2.71
$U120
CIS - U.S. Dollar
$3.29
$3.29
-34.07%
$3.29
$3.29
South Asia - USD
$2.99
$2.99
-40.08%
$2.99
$2.99
Click on a currency name to load price history for that currency.
Valve suggested prices are displayed on packages page.
Initializing price history graph…
User Tags
Simulation
RPG
Space Sim
Sandbox
Strategy RPG
Exploration
CRPG
Choose Your Own Adventure
2D
Top-Down
Pixel Graphics
Anime
Cute
Colorful
Drama
Space
Mystery
Emotional
Funny
Survival
0 players right now
1 24-hour peak
6 all-time peak
Copy this code and paste it into your website:
<iframe src="https://steamdb.info/embed/?appid=1730980" height="389" style="border:0;overflow:hidden;width:100%" loading="lazy"></iframe>
High-resolution Steam charts
Due to constant crawling, charts data is limited. You can login to view full data.
Initializing graph of a week…
Lifetime concurrent players on Steam
Initializing graph of a year…
Concurrent players
0 players right now
1 24-hour peak
6 all-time peak
Owner estimations
0.2 k

..

0.6 k

on reviews (20-55)
Store data
58 followers
7 positive reviews
4 negative reviews
63.64% positive reviews
Steam game hub followers chart
Initializing followers chart…
Monthly breakdown
| Month | Peak | Gain | % Gain | Min Daily Peak | Avg Daily Peak | Twitch Peak |
| --- | --- | --- | --- | --- | --- | --- |
How many players are playing 太空震惊模拟器 right now on Steam? There are 0 players in 太空震惊模拟器 on Steam. 太空震惊模拟器 player counter. 太空震惊模拟器 Steam charts.
Packages that include this app
| SubID | Name | Billing Type | Last Update |
| --- | --- | --- | --- |
| 619966 | 太空震惊模拟器 | Store or CD Key | 13 October 2021 – 02:35:07 UTC |
Want to highlight which packages you own? Install our browser extension
Depots
| ID | Name | Max Size | OS | Extra Info |
| --- | --- | --- | --- | --- |
| 1730981 | 太空震惊模拟器 Content | 1.52 GiB | | |
Branches
Other
| Name | Value |
| --- | --- |
| baselanguages | Simplified Chinese |
Raw Information
You have to be signed in to load raw depot data
Launch Options
0. Unnamed launch option
| | | |
| --- | --- | --- |
| Executable | Game.exe | |
| Launch Type | Launch (Default) | |
| Operating System | windows | |
Configuration
| Key | Value |
| --- | --- |
| installdir | Shocking in space simulator |
Other apps that reference this app
Loading…
History
Crunching history, just for you…