Valve attended GDC in full force this year and talked about a lot of stuff. Here's everything they talked about it in one post.
Steam growth
PC gaming is expanding and so is Steam. We've put together a quick graph on Steam's userbase growth over the past years. One can only imagine what SteamVR and SteamOS will bring to this already huge number of 125 million active users.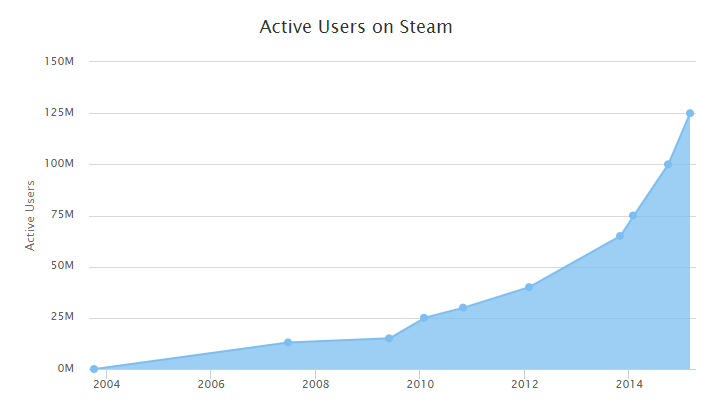 SteamOS
We haven't heard much about SteamOS since it was initially announced in 2013 and had a beta release in 2014. Updates to the operating system have been steady and it's clear Valve is still working on getting it into shape for a consumer release in November. Game support has also steadily been increasing, there are almost 1000 products on Steam that support Linux & SteamOS now.
With SteamOS's original announcement in 2013 Valve also announced Music, TV and Movies coming to Steam. Music has already been implemented into Steam and we've already seen Dota 2's Free to Play documentary and a handful of other apps on Steam that could classify as being Movies or TV shows. It will only take a more widespread range of publishers and some buttons being pushed to start selling TV Shows and Movies on Steam.
Steam Controller
Valve's Steam Controller has gone through quite a few revisions since it was initially announced in 2013. At GDC Valve presented the final version of their controller.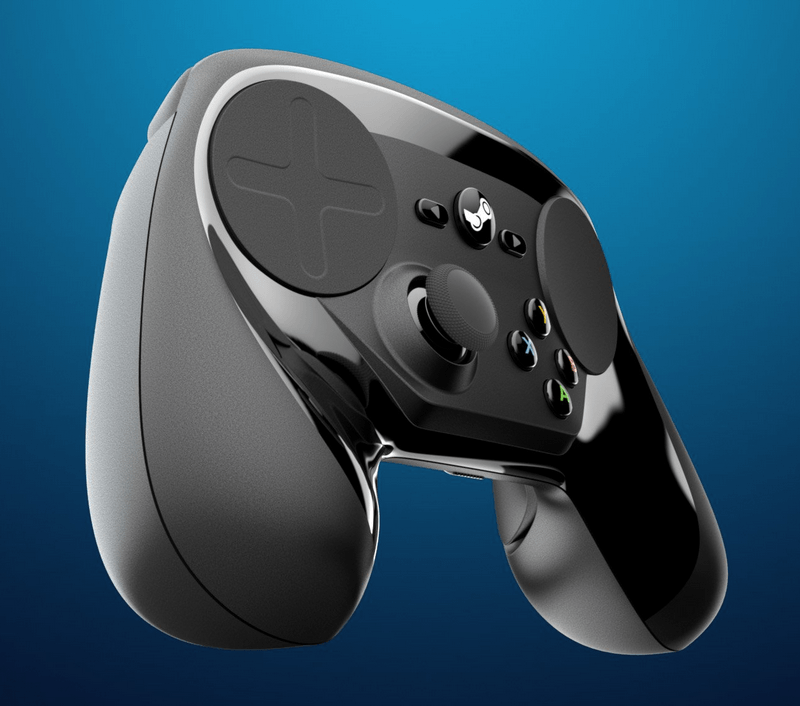 Steam Controller on the Steam Store
Steam Controller on the Steam Universe page
Steam Link
Steam Link is a small computer that you hook up to your television that automatically discovers instances of Steam running on your network. You are then able to use Steam's In-Home Streaming to stream your game to the Steam Link. The Steam Link has 3 USB ports, 1 Ethernet port, 1 HDMI port and built-in 802.11ac Wi-Fi. According to Valve, it can play In-Home Streaming streams at 1080p/60Hz. It'll be available November this year for $49.99.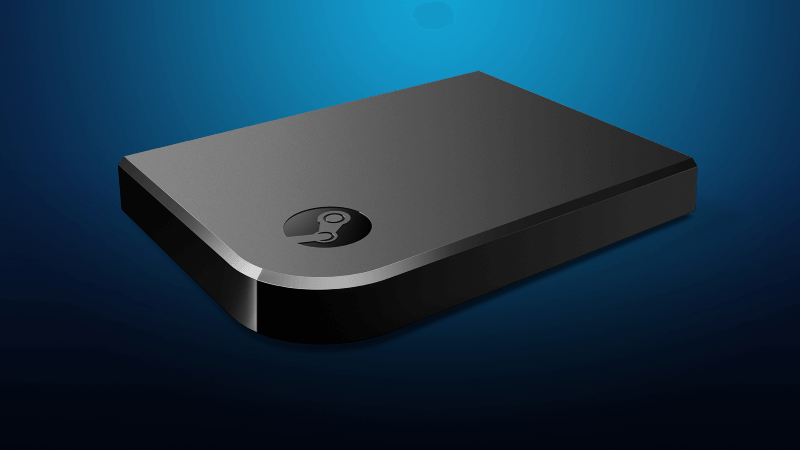 Steam Link on the Steam Store
Steam Link on the Steam Universe page
Steam Machines
Valve initially announced a bunch of Steam Machines during CES 2014. Last week at GDC they added the Steam Machines to the Steam Store. All Steam Machines come with SteamOS pre-installed and a Steam Controller as mentioned on the Steam Universe page.
Instead of going to every Steam Machine page on the Steam Store to compare them, check out our handy table below. Some Steam Machines do not list specific parts on the store, so some stuff in the table is left to your imagination.
Brand & model
CPU
GFX
STORAGE
MEMORY
Price
Alienware A
Intel Core i3 Dual-Core ?
NVIDIA GTX 2GB GDDR5 ?
500GB HDD
4GB DDR3L 1600MHz
$479.99
Alienware B
Intel Core i3 Dual-Core ?
NVIDIA GTX 2GB GDDR5 ?
1TB HDD
8GB Dual Channel DDR3L 1600MHz
TBA
Alienware C
Intel Core i5 Quad-Core ?
NVIDIA GTX 2GB GDDR5 ?
1TB HDD
8GB Dual Channel DDR3L 1600MHz
TBA
Alienware D
Intel Core i7 Quad-Core ?
NVIDIA GTX 2GB GDDR5 ?
2TB HDD
8GB Dual Channel DDR3L 1600MHz
TBA
Alternate
Intel Core i3-4130
NVIDIA GTX 750Ti
500GB SSHD
8GB DDR3 1600MHz
$1,099
Alternate Advanced
Intel Core i5-4570
NVIDIA GTX 960
1TB SSHD
8GB DDR3 1600MHz
$1,299
Alternate Power
Intel Core i5-4570
NVIDIA GTX 970
1TB SSHD
8GB DDR3 1600MHz
$1,499
Alternate Ultra
Intel Core i5-4670K
NVIDIA GTX 980
2TB SSHD
8GB DDR3 1600MHz
$1,499
Asus ROG GR8S
Intel Core i5/i7 ?
NVIDIA GTX 9-series ?
500GB/1TB 7200rpm HDD
128GB ~ 512GB SSD
DDR3 4GB ~ 16GB
$699+
Audio: ROG SupremeFX 5.1 HD. Network: Intel Gb LAN with 802.11 ac Wi-Fi
Digital Storm Eclipse
Intel Pentium G3220
NVIDIA GTX 960 2GB
1TB 7200RPM HDD
8GB DDR3 1600MHz
$699
Falcon Northwest Tiki
Up to Intel Core i7-4790K
NVIDIA GTX 900/Titan/Titan-Z
Up to 8 TB of SSD or
SSDs and a standard HDD
Up to 16GB of DDR3-1866 MHz
$1,999 -
$4,999
The Tiki is a highly customizable Steam Machine. Includes Liquid cooled CPU. Overclocking available.
Gigabyte BRIX Pro
Intel Core i7-4770R
Intel Iris Pro 5200
2.5" SSD/HDD (1 x 6Gbps SATA3)
2 x SO-DIMM DDR3L slots 1600 MHz
$599
iBuyPower SBX
AMD Athlon X4 840
AMD R7 250X 1GB GDDR5
500GB HDD (Up to 1TB HDD)
4GB Ram (Up to 8GB Ram)
$459+
Maingear DRIFT
Up to Intel Core 4790K
Up to NVIDIA GTX 980 and AMD R9 290X
Up to 2x 1TB SSD and 1x 6TB 3.5' HDD
Up to 16GB of DDR 3 Memory
$849+
Epic 120 Liquid Cooling
Materiel.net
Intel Core 4440
NVIDIA GTX 960 OC
SSHD - 1TB To (8GB Nand)
TBA
$899
NextBox
Intel Core i3-4160
NVIDIA GTX 750
1TB
8Gb DDR3
$799
NextBox
Intel Core i3-4160
NVIDIA GTX 960
1TB
8Gb DDR3
TBA
NextBox
Intel Core i5-4460
NVIDIA GTX 970
512GB SSD
8Gb DDR3
$1,299
ORIGIN OMEGA
Up to Intel Core i7-4770k
Up to 3-WAY NVIDIA GTX 980
Up to 14TB
Up to 32GB of 1866Mhz
$899 -
$4,999+
Scan 3XS ST5
Intel Core i3 ?
NVIDIA GTX 750 Ti
120GB SSD
8GB Corsair DDR3
$999
Scan 3XS ST10
Intel Core i5 ?
NVIDIA GTX 960
120GB SSD
8GB Corsair DDR3
$1,159
Scan 3XS ST15
Intel Core i5 ?
NVIDIA GTX 970
120GB SSD
8GB Corsair DDR3
$1,299
Storage and memory list standard options, with larger options available.
Syber A
AMD Athlon X4 840
AMD Radeon R9 270 2GB
500GB 7200 RPM HDD
4GB DDR3 1600MHz
$499
Syber I
Intel Core i3-4150
NVIDIA GTX 750Ti 2GB
1TB 7200 RPM HDD
8GB DDR3 1600MHz
$599
Syber X
Intel Core i7-4790K
NVIDIA GTX 980 4GB
1TB 7200 RPM HDD
8GB DDR3 1600MHz
$1,399
Webhallen S15-01
Intel Core i5-4460
NVIDIA GTX 960 2GB
1TB SSHD
8GB DDR3 1600MHz
$949
ZOTAC SN970
Intel 6th Gen Processor ?
NVIDIA GTX 970M 3GB GDDR5
2.5" 1TB HDD + 64GB M.2 SSD
8GB DDR3 SODIMM
$999
It took a really long time to create this table!
Steam VR / HTC Vive
One of the biggest announcements of GDC wasn't even announced at GDC but at the Mobile World Congress in Barcelona by HTC. It's the HTC Vive. It's been known Valve has been experimenting with virtual reality the past few years and now they've worked together with HTC to make the first SteamVR HMD.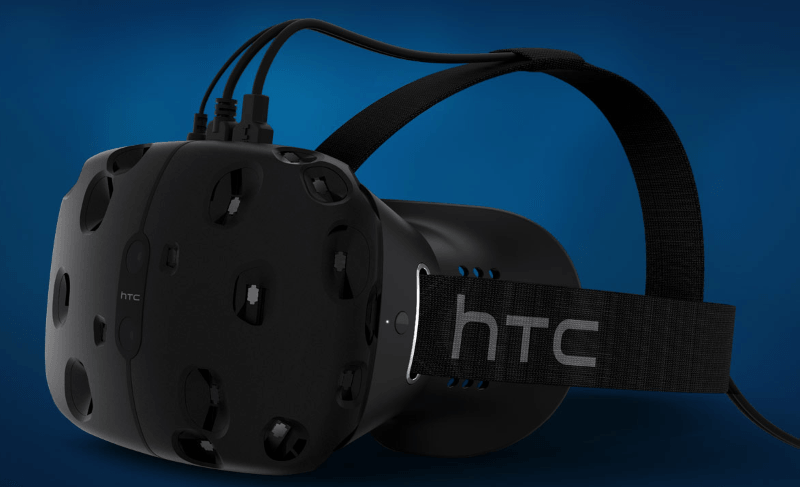 The HTC Vive (developer edition) specifications:
Built on the SteamVR platform
90Hz low persistence global displays
2 displays with a 1080x1200 resolution per eye (total framebuffer of 2160x1200)
Ergonomic dual-wield controllers with Lighthouse position tracking support
110° field of view
360° rotational tracking to a 1/10th degree accuracy
(Optional) Lighthouse base stations for accurate positional tracking in a (up to) 15 by 15 feet (4.5 meter) room.
The HTC Vive developer edition (with the controller and the basestations) will be available this spring, with a consumer release (with probably higher-res displays) coming in November.
We posted a bunch of initial impressions done by several different sites in our now archived liveblog of the GDC expo days.
HTC Vive on the Steam Universe page
Our post on SteamVR (pre-GDC)
Valve also said that the SteamVR platform is not exclusive to the HTC Vive, they've confirmed to Engadget that more headsets are on the way. They're handling the SteamVR platform the same way they're handling the Steam Machines. More headsets from multiple vendors, but no official one made by Valve itself.
Lighthouse
The HTC Vive isn't the interesting part however, Valve's tracking system is where major progress in the VR universe has been made. Valve calls their tracking system "Lighthouse". The Lighthouse base stations (2 required for proper 360° tracking) blast lasers into the room which sensors on the HTC Vive and the controllers can pick up on. The system then measures the time it took for the lasers to reach the sensor which gives its precise location to a fraction of a millimeter.
Currently we've only seen one of the mode Lighthouse can operate in, even though this might be the mode the developer edition ships with, Valve has made the hardware able to receive software updates so they can add new features as they finish them or to improve existing functionality.
Valve is making the system free to integrate by third-party hardware manufacturers in the hope they'll the integrate the sensors and in turn make more devices available within the virtual reality world.
For a short history on SteamVR, check out our pre-GDC post here.
Source 2
Even though Dota 2's Workshop Tools have been running a basic WIP of Source 2 since August last year, Valve finally announced Source 2 properly in a press release. Source 2 will be freely available to "content creators" with no royalties. The only requirement is that the if the product is being sold somewhere, it has to be sold on Steam as well. Valve takes a certain percent of royalties from every Steam sale.
Valve showed off Dota 2 running on Source 2 running on Vulkan running on an open-source Intel driver they created running on Linux. Phew. Here's a video we shot during the presentation:
Dota 2 is expected to update to Source 2 sometime in the first half of 2015 (aka soon). It won't be running on Vulkan because it's not finished and not supported by any drivers yet, but expect that to change when NVIDIA, AMD etc. add Vulkan support to their hardware drivers.
Valve also showed off their Portal themed VR demo they're using on the floor to demo HTC Vive and Lighthouse. This is running in Source 2.
Video by MaximumPCMag
Vulkan
The past year Valve has worked (with many others!) on the successor of OpenGL, now named Vulkan. It is based off AMD's Mantle API, but has been heavily modified since. You can read more about Vulkan on its official website.
Valve has already got Vulkan working in the Source 2 engine, it wasn't completely done when they presented it, but the performance increase (on lower hardware) was very noticeable. See the Dota 2 video in the previous paragraph for said demo.
If you missed our liveblog on the Vulkan panel presented by Valve, check it out here.
Things at GDC people got hyped over but turned out to be nothing
That panel on 3/3 at 3pm
There were 2 physics panels presented by Valve employees at GDC this year (just like last year), but one of the panels this year was scheduled for the 3rd of March at 3PM. Naturally this was too many 3's for the Valve community to handle and many wildly speculated that Valve would be announcing something at these panels. They didn't.
They did however announce Source 2, Steam Link and that other stuff outside of the panel through a press release on 3/3 at 3:54PM.
That GDC package
There's also the story of that package everyone got hyped over a while back. Turns out we haven't seen it being used at all at GDC and it is still a mystery what that unknown app is. Oh well!
Thanks and have fun
Thanks for checking out our coverage, as always we generally only post news on Twitter unless it's something like GDC. High five!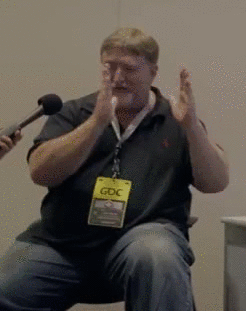 GIF from this video by MaximumPCMag