| | |
| --- | --- |
| App ID | 768100 |
| App Type | Application |
| Developer | Gizmo VR LTD |
| Publisher | Gizmo VR LTD |
| Supported Systems | Windows |
| Last Change Number | 13075290 |
| Last Record Update | 8 November 2021 – 07:05:00 UTC () |
| Release Date | 5 January 2018 – 09:05:52 UTC () |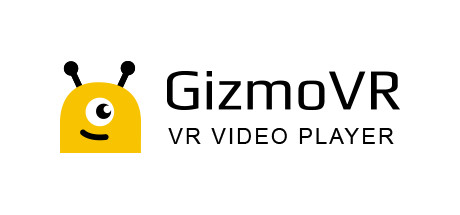 GizmoVR is a virtual reality media player. Supported video formats: 2D/360/180 avi, mkv and mov 4K, 8K
Additional Information
clienticon
de6dbaf1e9eedbc5e73dd84482abdfdaa427e420
clienttga
c62063740f7d52fe07904d4baea9960628e1cf72
icon
233d82139adf9feb3d3ff9c18c844476da876332
logo
b7008b6aea1c12dbdc3ce010714c87799453fbb2
logo_small
b7008b6aea1c12dbdc3ce010714c87799453fbb2_thumb
metacritic_name
GizmoVR Video Player
controller_support
partial
ReleaseState
released
IsFreeApp
Yes
eulas
Exclude from family sharing (exfgls)
Yes
Store Release Date
5 January 2018 ()
osarch
64
community_hub_visible
Yes
OpenVrSupport
Yes
OtherVrSupport
Yes
ControllerVr

| | |
| --- | --- |
| kbm | 1 |
| oculus | 1 |
| steamvr | 1 |
| xinput | 1 |

PlayAreaVr
othervrsupport_rift_13
Yes
small_capsule
header_image
vrheadsetstreaming
Yes
onlyvrsupport
Yes
Associations

| | |
| --- | --- |
| 0/name | Gizmo VR LTD |
| 0/type | developer |
| 1/name | Gizmo VR LTD |
| 1/type | publisher |

Primary Genre
Utilities (57)
Store Genres
Utilities (57)
Supported Languages

| | | | |
| --- | --- | --- | --- |
| 9 Languages | Interface | Full Audio | Subtitles |
| English | Yes | Yes | Yes |
| French | Yes | Yes | Yes |
| German | Yes | Yes | Yes |
| Simplified Chinese | Yes | Yes | Yes |
| Russian | Yes | Yes | Yes |
| Spanish - Spain | Yes | Yes | Yes |
| Ukrainian | Yes | Yes | Yes |
| Japanese | Yes | Yes | Yes |
| Portuguese | Yes | Yes | Yes |

Steam Release Date
5 January 2018 – 09:05:52 UTC ()
Store Asset Modification Time
21 April 2020 – 10:53:00 UTC () (1587466380)
Is free on the store?
Yes
Web Assets
review_score
5
review_percentage
69
Detected Technologies (?)
Engine.Unity, SDK.OpenVR
40 users right now
40 24-hour peak
54 all-time peak
Copy this code and paste it into your website:
<iframe src="https://steamdb.info/embed/?appid=768100" height="389" style="border:0;overflow:hidden;width:100%" loading="lazy"></iframe>
High-resolution Steam charts
Due to constant crawling, charts data is limited. You can login to view full data.
Initializing graph of a week…
Lifetime concurrent users on Steam
Initializing graph of a year…
Concurrent users
40 users right now
40 24-hour peak
54 all-time peak
Store data
829 followers
197 positive reviews
87 negative reviews
69.37% positive reviews
Playtime estimations by SteamSpy
0 minutes median playtime in last 2 weeks
31 minutes median total playtime
0 minutes average playtime in last 2 weeks
22 minutes average total playtime
Steam game hub followers chart
Initializing followers chart…
Monthly breakdown
Login to see a player breakdown per month.
How many players are playing GizmoVR Video Player right now on Steam? There are 40 players in GizmoVR Video Player on Steam. GizmoVR Video Player player counter. GizmoVR Video Player Steam charts.
Packages that include this app
| SubID | Name | Billing Type | Last Update |
| --- | --- | --- | --- |
| 227275 | Steam Sub 227275 | CD Key | 7 December 2017 – 08:33:20 UTC |
| 227276 | GizmoVR Video Player for Beta Testing | CD Key | 7 December 2017 – 08:33:20 UTC |
| 227277 | GizmoVR Video Player | Free on Demand | 7 December 2017 – 08:33:20 UTC |
| 231079 | Complimentary reviewer package | CD Key | 15 December 2017 – 08:18:19 UTC |
Want to highlight which packages you own? Install our browser extension
Depots
| ID | Name | Max Size | OS | Extra Info |
| --- | --- | --- | --- | --- |
| 768101 | GizmoVR Video Player Windows Content | 421.99 MiB | | 64-bit |
Branches
Other
| Name | Value |
| --- | --- |
| baselanguages | English, German, French, Spanish - Spain, Simplified Chinese, Russian, Japanese, Ukrainian |
Raw Information
You have to be signed in to load raw depot data
Launch Options
0. Unnamed launch option
| | | |
| --- | --- | --- |
| Executable | GizmoVR.exe | |
| Launch Type | Launch in Steam VR Mode | |
| Operating System | windows | |
1. Unnamed launch option
| | | |
| --- | --- | --- |
| Executable | GizmoVR.exe | |
| Launch Type | Launch in Oculus VR Mode | |
| Operating System | windows | |
Configuration
| Key | Value |
| --- | --- |
| installdir | GizmoVR Video Player |
Other apps that reference this app
Loading…
History
Crunching history, just for you…