| | |
| --- | --- |
| App ID | 1637670 |
| App Type | Game |
| Developer | Marsh533 |
| Publisher | Marsh533 |
| Supported Systems | Windows |
| Last Change Number | 12940325 |
| Last Record Update | 25 October 2021 – 03:28:40 UTC () |
| Release Date | 30 July 2021 – 11:00:21 UTC () |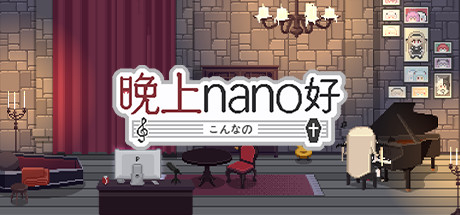 《晚上nano好》是一款休闲三消类游戏,玩家需要通过进行各类直播来帮助椎名菜羽在Bilibili开展虚拟主播的活动生涯。
0 players right now
5 24-hour peak
72 all-time peak
Copy this code and paste it into your website:
<iframe src="https://steamdb.info/embed/?appid=1637670" height="389" style="border:0;overflow:hidden;width:100%" loading="lazy"></iframe>
High-resolution Steam charts
Due to constant crawling, charts data is limited. You can login to view full data.
Initializing graph of a week…
Lifetime concurrent players on Steam
Data is limited. You can login to view data per day.
Initializing graph of a year…
Concurrent players
0 players right now
5 24-hour peak
72 all-time peak
Owner estimations
5.0 k

..

13.6 k

on reviews (20-55)
Store data
557 followers
242 positive reviews
6 negative reviews
97.58% positive reviews
Steam game hub followers chart
Initializing followers chart…
Monthly breakdown
Login to see a player breakdown per month.
How many players are playing 晚上nano好 right now on Steam? There are 0 players in 晚上nano好 on Steam. 晚上nano好 player counter. 晚上nano好 Steam charts.
Packages that include this app
| SubID | Name | Billing Type | Last Update |
| --- | --- | --- | --- |
| 581656 | 晚上nano好 | Free on Demand | 13 May 2021 – 17:23:31 UTC |
Want to highlight which packages you own? Install our browser extension
Depots
| ID | Name | Max Size | OS | Extra Info |
| --- | --- | --- | --- | --- |
| 1637671 | 晚上nano好 Content | 926.88 MiB | | |
Branches
Other
| Name | Value |
| --- | --- |
| baselanguages | Simplified Chinese |
Raw Information
You have to be signed in to load raw depot data
Launch Options
1. Konnano
| | | |
| --- | --- | --- |
| Executable | 晚上nano好/Konnano.exe | |
| Launch Type | Unspecified | |
Configuration
| Key | Value |
| --- | --- |
| installdir | 晚上nano好 |
Other apps that reference this app
Loading…
History
Crunching history, just for you…
API name
Display name and description
Icons
FIRST_STREAM
初次见面! 我叫椎名菜羽!

Hidden.

NANOTO_FIRST_LIVE
双倍的快乐

Hidden.

SILVER_STREAM
还好没有错过你

Hidden.

NANOCHIYU_LIVE
「2th」Live 期待!

Hidden.

NYANO_LIVE
nya nya nya~

Hidden.

NANOTO_SECOND_LIVE
双倍的雨刷器

Hidden.

E_GUITAR
帅帅nano!

Hidden.

MANANO_LIVE
之后是两人的约会时间~

Hidden.

NANO_LIVE
L · O · V · E

Hidden.

SILVER_CAPTAIN
百人舰队

大航海数量达到100

GOLD_CAPTAIN
千人舰队

大航海数量达到1,000

SILVER_TV
十万粉丝

粉丝数量达到100,000

GOLD_TV
百万粉丝

粉丝数量达到1,000,000

STREAM_COUNT_01
新秀主播

累计完成20场直播

STREAM_COUNT_02
老练主播

累计完成40场直播

ALL_COMPLETE
强强nano!

解锁全部成就

KANCHO_COUNT
啾噜啾噜......噗哈!

累计获得300个舰长

TEITOKU_COUNT
老板大气

累计获得100个提督

SOTOKU_COUNT
最强石油王

累计获得100个总督
Stats
| API Name | Display Name | Default Value |
| --- | --- | --- |
| stat_stream_count | no name | 0 |
| stat_kancho_count | no name | 0 |
| stat_teitoku_count | no name | 0 |
| stat_sotoku_count | no name | 0 |