| | |
| --- | --- |
| App ID | 1259280 |
| App Type | Game |
| Developer | ambr, inc. |
| Publisher | ambr, inc. |
| Supported Systems | Windows |
| Last Change Number | 15577664 |
| Last Record Update | 30 July 2022 – 02:01:43 UTC () |
| Release Date | 24 May 2020 – 08:58:08 UTC () |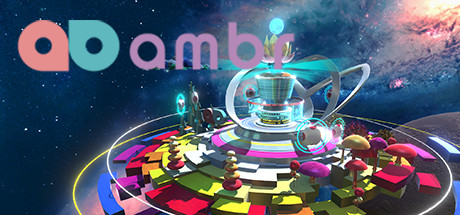 ようこそ、ambrの世界へ。ambrは、どこからでも人々が集まって一緒に楽しむことができる新しい仮想世界です。VRデバイスを通じて、ambrにアクセスしましょう。アバターは気に入ったものを選ぶことも、あなた自身がつくったアバターを利用することもできます。ambrでは、誰もが自分の仮想空間を簡単にひらくことができます。様々なユーザーの空間に参加したり、自分で空間をひらいてみましょう。また、ambrでは様々なアイテムを楽しむことができます。色んなアイテムを試してみましょう。はじまったばかりのambrは、皆さんと一緒にこれからも広がっていきます。この世界を一緒に楽しみましょう。
Additional Information
Supported Languages
| 1 Languages | Interface | Full Audio | Subtitles |
| --- | --- | --- | --- |
| Japanese | Yes | Yes | Yes |
0 players right now
0 24-hour peak
151 all-time peak
Copy this code and paste it into your website:
<iframe src="https://steamdb.info/embed/?appid=1259280" height="389" style="border:0;overflow:hidden;width:100%" loading="lazy"></iframe>
High-resolution Steam charts
Lifetime concurrent players on Steam
Concurrent players
0 players right now
0 24-hour peak
151 all-time peak
Store data
119 followers
8 positive reviews
6 negative reviews
57.14% positive reviews
Steam game hub followers chart
Initializing followers chart…
Monthly breakdown
Sign in to see a player breakdown per month.
How many players are playing ambr right now on Steam? There are 0 players in ambr on Steam. ambr player counter. ambr Steam charts.
Packages that include this app
| SubID | Name | | Billing Type | Last Update |
| --- | --- | --- | --- | --- |
| 437360 | Steam Sub 437360 | | CD Key | 27 February 2020 – 15:43:42 UTC |
| 437361 | Steam Sub 437361 | | CD Key | 27 February 2020 – 15:43:42 UTC |
| 437362 | ambr | | Free on Demand | 25 October 2020 – 20:19:38 UTC |
Want to highlight which packages you own? Install our browser extension
Depots
| ID | Name | Max Size | OS | Extra Info |
| --- | --- | --- | --- | --- |
| 1259281 | ambr Content | 197.95 MiB | | |
Branches
Other
| Name | Value |
| --- | --- |
| baselanguages | Japanese |
Launch Options
0. Oculus Rift / Rift S
| | | |
| --- | --- | --- |
| Executable | ambr.exe | |
| Launch Type | Launch in Oculus VR Mode | |
| Description | Oculus Rift / Rift S | |
| Operating System | windows | |
1. Vive
| | | |
| --- | --- | --- |
| Executable | ambr.exe | |
| Launch Type | Launch in Steam VR Mode | |
| Description | Vive | |
| Operating System | windows | |
Configuration
| Key | Value |
| --- | --- |
| installdir | ambr |
Other apps that reference this app
Loading…
History
Crunching history, just for you…