| | |
| --- | --- |
| App ID | 1008030 |
| App Type | Game |
| Store Name | Consolation: Board Meeting - Anthology Edition |
| Developer | Sayincraft Studios |
| Publisher | Sayincraft Studios |
| Supported Systems | Windows |
| Last Change Number | 13608339 |
| Last Record Update | 8 January 2022 – 21:31:53 UTC () |
| Release Date | 15 October 2021 – 04:05:01 UTC () |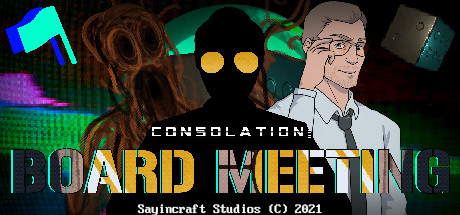 Welcome to Consolation: Board Meeting. This game is an anthology series of stories told through multiplayer party games. Hunt down geese as a disgruntled experiment, or participate in a board game- in a board meeting- for a promotion! No matter why you are here, welcome aboard!
0 players right now
1 24-hour peak
7 all-time peak
Copy this code and paste it into your website:
<iframe src="https://steamdb.info/embed/?appid=1008030" height="389" style="border:0;overflow:hidden;width:100%" loading="lazy"></iframe>
High-resolution Steam charts
Due to constant crawling, charts data is limited. You can login to view full data.
Initializing graph of a week…
Lifetime concurrent players on Steam
Data is limited. You can login to view data per day.
Initializing graph of a year…
Concurrent players
0 players right now
1 24-hour peak
7 all-time peak
Owner estimations
0.3 k

..

0.7 k

on reviews (20-55)
Store data
72 followers
10 positive reviews
3 negative reviews
76.92% positive reviews
Steam game hub followers chart
Initializing followers chart…
Monthly breakdown
Login to see a player breakdown per month.
How many players are playing Consolation: Board Meeting - Jam Edition right now on Steam? There are 0 players in Consolation: Board Meeting - Jam Edition on Steam. Consolation: Board Meeting - Jam Edition player counter. Consolation: Board Meeting - Jam Edition Steam charts.
Packages that include this app
| SubID | Name | Billing Type | Last Update |
| --- | --- | --- | --- |
| 333478 | Steam Sub 333478 | CD Key | 31 December 2021 – 16:00:54 UTC |
| 333479 | Steam Sub 333479 | CD Key | 31 December 2021 – 16:07:27 UTC |
| 333480 | Consolation: Board Meeting - Anthology Edition | Free on Demand | 31 December 2021 – 16:00:06 UTC |
Want to highlight which packages you own? Install our browser extension
Depots
| ID | Name | Max Size | OS | Extra Info |
| --- | --- | --- | --- | --- |
| 1008032 | Consolation: Board Meeting - Anthology Edition Depot | 3.05 GiB | | |
Branches
Other
| Name | Value |
| --- | --- |
| baselanguages | English |
Raw Information
You have to be signed in to load raw depot data
Launch Options
0. Launches the Anthology Edition of Consolation: Board Meeting
| | | |
| --- | --- | --- |
| Executable | Consolation Board Meeting ANTHOLOGY EDITION\Consolation Board Meeting Anthology Edition.exe | |
| Launch Type | Launch (Default) | |
| Operating System | windows | |
| CPU Architecture | 64-bit only | |
Configuration
| Key | Value |
| --- | --- |
| installdir | ConsolationBoardMeetingAE |
Other apps that reference this app
Loading…
History
Crunching history, just for you…
API name
Display name and description
Icons
BigEasterEgg1
Eyes Blind Open

Run from me run from me

welcomegame
Welcome Aboard

Thanks for playing! We have been waiting for you.

thanksnoskipme
The Good Ending

You have my respect (Did not skip my intro)

skipintro1
The Bad Ending

Okay. Now it's personal.

skipintrosong
It's a bit loud

Yeah, I know. Sorry.

didntskipsong
Audiophile

It's a good song. Glad you could take the music! (Check out the artist Musithical)

infocredits
I Must Give You Credit

Not everyone would bother to open this!

wingame1
Promotion

Congrats on your promotion! Do not worry about what will come of your "friends". (Unless of course, you played alone. Didn't you)

losegame1
Forced Retirement

Due to unforeseen circumstances you have been forced into an early retirement of living. Sorry.

theoffice1
The Office

It's just an office. But not the funny one.

theexecutive
The Executive

Now that's one way to die. Ignore the incorrect usage of 0 here.

loselife
Numbers Game

That's all life is, kid. A numbers game.

rolldice
Terms of Employment

The die has been rolled. Consider this your signing of the contract. Legal team says so.

minigame1
Resident Abnormal

Something aint right here (Play The Hallway Minigame)

beathall
Kill Sandwhich

Jill I ever stop making puns? (Prove you are 1996 Worthy)

minigame2
Steven's Lament

This looks familiar. Well, at least I'm not blind. (Play The Maze Minigame)

beatmaze
aMAZE-ing

Beating Minigames earns you puns I suppose

minigame3
From Russia With an Incorrect Representation of Russian Roulette

I made this game in 10 days cut me some slack (Play The Russian Roulette Minigame)

wingun
He Had to Go

I thought it would make you feel better to know that the guy on the other end of the table was probably a war criminal. Or something.

losegun
RNG You Glad I Didn't Say Banana?

Losing this minigame got you the pun this time! Pranked!

minigame4
Taking Inventory

Think back to your training of inspecting items in your inventory. (Play The Puzzle Box Minigame)

winboxgame
The Key To Everything

I guess this was the key to winning! However, you also could not DIE! So punny of me...

startmultiplayer
This is in-fact, a Multiplayer game

Do not let anyone tell you otherwise. This game has multiplayer. I promise!

makename
Information Policy

This name is about all the information we take. And even then, we don't really. Nice name tho!

creategame
Born a Leader

Look at you, hosting a game. Your a natural leader! Management material for sure.

returnmenu
Where are you going?

Chris is a cool guy. I would go back to play with his funny head too.

joinlobby
Friendship is Magic

Hidden.

ragequit
Rage Quit?

Probably not tbh

socialdistance
Social Distancing

This chat feature is PERFECT for social distancing. Chat away you cool kids! (Profanity filter sold separately)

cursed
Cursed

Welp, now your cursed to lose a health point everytime you enter the MAZE minigame!

meetchris
Meet Chris

Nice to meet you Christopher Conn, CEO of Consolation Innovations!

meetburns
Meet Steven

Nice to meet you Ropeburn, disgruntled experiment of Consolation Innovations!

focus
Learn to Focus

Focusing is a powerful tool. It can be the path to many secrets in this world.

redlight
Red Light

He did say, don't move a (finger) muscle.

greenlight
Green Light

You are slippery like a squid! Good job!

emo
EMO

Hidden.

minigame5
Ghost In The Code

This reminds of a popular streaming series. (Play The Glitch Escape Minigame)

classicguy
Humble Beginnings

The original art style was cute. This ain't a cute game.

minigamemenu
Im Board

Good, because you can skip the board here!

practicemakeperfect
Practice Makes Perfect

Hidden.

garnivaltime
Garnival Time

You'll be dead by daylight time if you play this mode!

cinematicgarnival
Downright Cinematic

Now that was some cinema, don't ya think?

garnivalintroskip
Snubbed For The Oscar

Aww you skipped what would have been an Oscar worthy film (intro).

dejavugarnival
This again?

If you did not do this in the Tabletop mode. Do it. Lil Sayincraft guy is epic!

somethingelsegarnival
Could this be some other objective?

Hidden.

halfwaytheregarnival
About Half Way There

Hidden.

superwelcometothegarnival
Super Welcome to the Garnival!

Hidden.

meetgoose
Meet Emo Goose

Nice to meet you Emo Goose, bane of GoB and adorable duck!

heald10
Garnival's and Geese's

Emo Goose DM says Roll a 0 or above to gain health. I guess.

beatrotater
CarrouHell Completed

Congrats on beating yet another Pocket Dimension Maze designed to be disorienting. I'm so glad you love them so much, I might just add more!

beathaus
UpSideHaus Completed

You know what? I think the hallway might have been sideways. Oops.

beatgoosehunt
Goose Hunt Completed

Wow! You sure are good at hunting your own species. Good to know. Did you have fun pretending to throw darts at least?

beatrollergooster
Roller Gooster Completed

The name of the minigame is already a pun. I am on a roll(er)!

beatgoosexpress
Goosexpress Completed

Every good game has a train level! Does this count? (Extra praise if you didn't read the middle part of this games name)

newweapongarnival
Throwing Dart

Hey, focusing is a big mechanic in this game isn't it. Hmm, well for this mode pretend you are throwing a dart- like a carnival game!

squidgarnivalgame
Ghost In The Code 2

Hidden.

finalstretchgarnival
The Final Stretch

Is no one else questioning why this game has both Halloween and Christmas decorations? Well good. Don't.

firstbloodgarnival
First Blood

Wow, thats alotta blood. Hopefully it wasn't Steven who drew it. (Unless you are Razer Burn, in which case Hi haha good luck!)

somanyoptions
So Many Options!

There will be more in the future! (Open the new Multiplayer Selection Menu)

yellowcarshint
Something to Look Into

This seems familiar. Maybe this statue should be FOCUSED on in another mode perhaps???? *wink wink*

garnivallose
Emo For All The Wrong Reasons

Never a bad reason to listen to your fav Emo Punk Rock Bands! (Bad Ending)

garnivalwin
What in GoB's name have you done?!?

Hidden.

welcometothegarnival
Welcome to the Garnival

Happy Halloween, Merry Christmas, and a Happy New Year! Screw it- enjoy this massive free-roaming PVP slasher based Decemberween's Eve update! And at no extra cost!!!

garnivalcredits
Roll Credits

Even for something this buggy, lots of help from friends- and strangers went into creating the art for this game. Check them out!

alonegarnival
Alone at the Garnival

No shame in playing alone. Much like most of these geese would be in online- this games online is dead! (Hope you find what you are looking for!)

originalsarahmap
The Original Design

(This map is not currently reliable) - This is the original layout design by Emo Goose herself!