CORE CHANGES
Added new 3D meshes for all Ship skins and main menu satellite (Cosmo)
Increased the overall rift size by 80% and added destroy satelites, starships and space station debris around the rift outskirts
Changed the ugprade system for each co-pilot to grant you an Augment, These augments can be added to your starship augmentation meaning you can mix and match augments from all co-pilots to create wacky and fun builds!
Reworked all cosmic echo ability sets to scale with health, The lower their health, the more dangerous the abilities become.
A look into the main menu screen...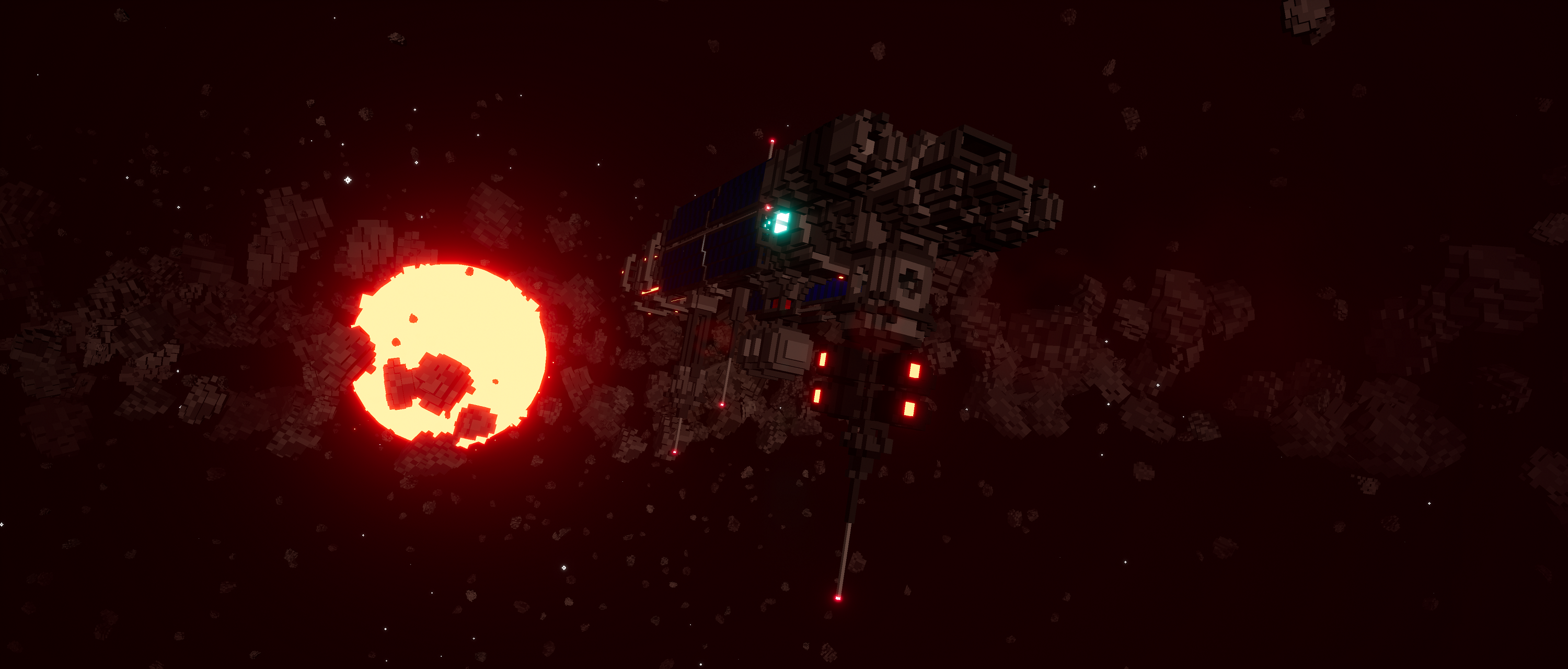 SMALLER CHANGES
Fully changed the upgrades for Co-Pilot Pon (Now called Ryan) anmd changed multiple upgrades for Co-Pilots Ava, Luna, Sunny and Jay
Adjusted challenges [End Game, True End Game and Ultimate True End Game] to be easier to complete
Squishy Fruit now also looks at cosmic stars aswell as items and artifacts when activated.
Items that give Health, Damage, Critical strike chance have been lowered significantly
Removed the item stat that decreased ability ether cost and replaced it with max ether
Reworked the artifact Regeneration Beads, It now allways heals for 30 Health, and heals for 60 if the player is below half health
Reworked the artifact Mark of Grace: Now reads as "Gain +25 Damage and +25 Ability Damage but lose 30 Max Health"
Reworked the artifact Mark Of Haste (was mark of grace - names have been swapped)
The Shadow Diamond infuser now has a chance to randomly explode when you use it, increasing with every use (this is to prevent players from infinitly gaining artifacts from it during a rift)
Adjusted the Main menu screen, Co-Pilot screen and Collection UI screens to fit with the new information
Added a compendium in the collection log interface for players to read up on Artifacts, Cosmic Echos, Starships and Cosmic Rifts with more informaton regarding the satellite and its lore
Reworded multiple artifacts to use correct terminology and spelling
After the intergalagic merchant has left players will no longer see "The Coupon" artifact in the upgrade selection screen as it provides no real use
Cosmic Critters (Now Called Ensouled co-pilots) have new 3D models, attack and death animations)
Added vertical and horizontal tilt when moving your starship in space (Helps with ship speed identifcation)
Reworked multiple Ship aura, Mainmenu, explosion and projectile particales to match the 3D models and enviorment
Attack speed upgrades no longer apear on Common, Rare or Legendary items, only on Artifacts, Cosmic Stars and Augments
Reworked artifact "Lasermancy" to work correctly with range upgrades and augment changes
Reworked artifact "Shell of Power" which is now "Plasma Cannon" a long range, low accuracy projectile with high damage
Reworked the player ship death animation which now uses a custom 3D model based on your current ship skin
BUG FIXES
Fixed Issues with the health bar text and percent scaling showing only current health and not current + bonus health crom the rift multiplier
Fixed multiple Audio volume scaling errors
Fixed multiple spelling errors [Thank you Popout20]
Fixed a bug relating to opening the Patch notes and level selection screen with spacebar multiple times
Fixed errors with the void realm trophy not showing properly
Fixed a bug with the rating achievements not working correctly
Fixed audio scaling issues with attacking cosmic echos and opening rifts
Fixed a bug with Deflector sheild and Luna Reaver sheild deleting cosmic critters on contact and failing to drop items
Fixed audio bugs with the main menu buttons, scrolling clicking and hovering.
COMING SOON...
3D mesh replacements for all cosmic echo and removal their 2D sprites
Full cosmic echo ability rework using lerp and vterp rotation isntead of snap rotation
Look forward to a new rift location called "the Wormhole" player can experiment with crafting their own cosmic echo and fighting it!