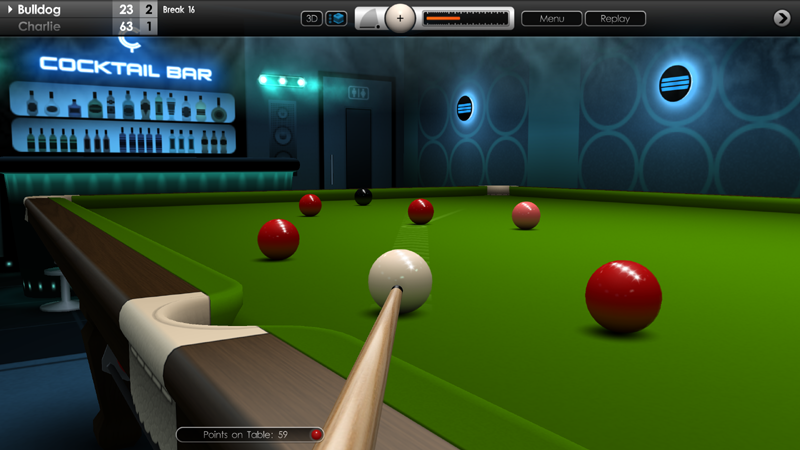 Hi Everyone,
We hope you're all doing well. In today's update we've made further enhancements to many areas of the game. Thanks again for the useful feedback and please see below for a full breakdown of the latest additions and improvements.
SNOOKER
Visibility checks when determining if a free ball should be awarded following a foul have been made more precise.

Default snooker table size is now 12ft (also applies to multiplayer games). Other sizes are still available including 8, 9, 10 and 11ft tables.
POOL
In 8-ball, following a foul with ball-in-hand behind the headstring, AI players no longer attempt to play an illegal ball behind the headstring.

Fixed an issue where the red ball-release button would continue flashing after pressing 7/F7 to restore the previous ball position.

Fixed an issue where the ball number (shown in aiming circle) could briefly flash on screen at the start of a new game.

Fixed a rare issue where a freeze could happen at the start of a new game, if another game had just been played before.

In practice mode, pressing the red ball-release button then quickly clicking the restore button, or going to the menu to re-rack balls, or exiting to the main menu, will now halt the audio sample of the balls rolling.
KILLER POOL
Fixed an issue where the number of lives remaining would not always display correctly in the match information screen.

Maximum number of lives now capped at 10 when the rule variation for gaining extra lives is enabled.
MULTIPLAYER
Fixed an issue that could sometimes cause a disconnection during a match.

When choosing the table size in the MP lobby, separate values are now stored for pool and snooker tables.

The progress bar (row of flashing lights) at the bottom of the in-game menu has been replaced with an animated ring at the top right of the menu.
CONTROLS
Game controller now correctly navigates on the tournament fixtures screen when returning from a completed match.
A.I.
Computer opponents are now less accurate when playing off the cushion, and can occasionally miss the object ball, especially on lower difficulty settings.
AIM LINES
Primary aim line is now correctly clipped to edge of table when using high power. Also improved scaling of primary line arrows with power adjustment, and visibility made slightly less opaque.

Secondary aim lines for human vs human multiplayer games are now identical for both players (medium length), to offer a fair and balanced gaming experience. They can also be turned off for both players, if preferred, from the MP lobby.
CAMERAS
Improved transitions of 3D cameras on frame and match winning screens.
GRAPHICS
In-game avatars for A.I. players during chat messages are now slightly smaller and obscure less of the table view.

Tweaked cloth colours for 'Electric Blue' and 'Teal'.
MENUS
In-game menus now accomodate an extra line, allowing some menus to be contained on one page.

Added an extra page and slot for saved games and shots, bringing total saves from 36 to 49. Also added an extra tournament save slot.

The advanced control options in the main menu are now organised over 2 pages instead of 3.
OTHER ADDITIONS AND FIXES
Added a random setting for the start-up screen cloth colour. See 'Initial Setup > Start Screen > Cloth Colour' and click the left button until you reach the 'Random' option.

Added a 'Test' button to 'Options > Display > Graphics Settings' to test current graphics settings using the start-up screen.

Added a 'Recommended' hint to 'Limit frame rate' option in 'Options > Display > Graphics Settings'. Usually this should be set to 'Yes' for smooth and consistent frame rate, but on less powerful machines the 'No' option might give better performance.

Fixed an issue when using the virtual keyboard, which prevented delete key, shift key and cursor keys being used when editing player names.

Fixed an issue when using a dual monitor setup and the mouse has been clipped to the edges of the window. Clicking the minimise button in the menu, then restoring the window no longer freezes the mouse pointer. See 'Options > Controls > Advanced Settings (Page 2) > Mouse Movement'.

Fixed an issue where saved replays would pause when using ALT-TAB to minimise game.

Fixed an issue where the cue would rotate when the ESC key is pressed for the in-game menu, immediately after a shot is played.

Fixed an issue where the cue would return to the table when the ESC key is pressed for the in-game menu, shortly after chalking the cue.

Fixed an issue in slam mode, where pressing 2/F2 (add chalk) would prevent balls from being dragged around on the table.

Similar to above, power adjustment keys (shift, ctrl, +, -) and spin / cue elevation keys (e, q) are no longer active in slam mode.

Other minor fixes and enhancements.