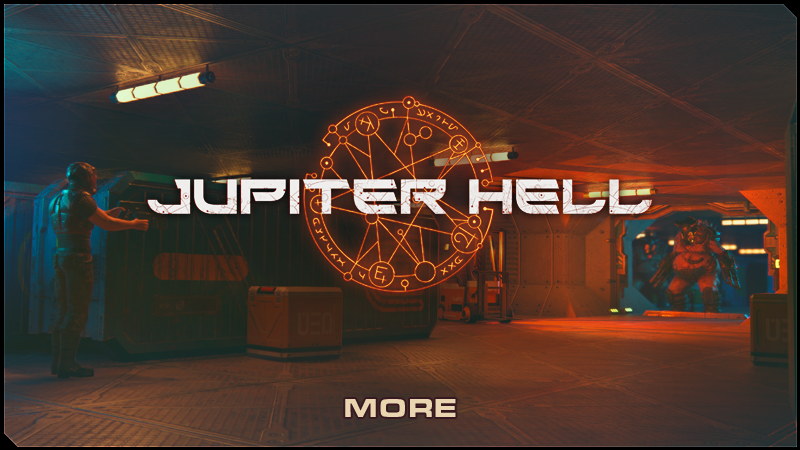 Jupiter Hell 0.9.9 "More" is live! We bring you more message-objectives, more objective mechanics, more animation improvements, more trait and station usage options, and many, many, MANY more exotics! Want to know more? See for yourself, and read all about it below!
Messages
Our unique objective system moves to stage 2 - now one of the three branches per moon is locked, and a message will tell you how to unlock it. More importantly, we introduced mini-level quests, also found through messages, that pose bite-sized optional challenges with potential for really good loot! There are four types of mini-levels of different challenge, rewards and rarity, and all of them have randomized layouts.
Exotics
The amount of exotics in the game has been more than DOUBLED! Among many new exotics, each with their own unique and interesting perk, you'll notice that now you can find exotic armors and exotic headgear. Some of these are class specific, giving class specific perks - don't worry, they only appear in the loot pool if you play the matching class :).
Oh, almost forgot - there are two REALLY powerful and rare exotic mods to be found!
Animations
Several internal improvements to the animation system have been made. The out facing effects are much better directional tracking (like in Onslaught or enemy bot turrets), finally the intended door animations, camera movement improvements and actual elevator doors. Most notably however the player and human enemies will now lean when shooting from behind a corner!
Also... the player can also be gibbed, so don't throw plasma grenades under your feet.
Trait options
The first thing you'll notice is that you can now delay trait choices for later - maybe you want to decide what build to go for based on the messages found in the Callisto L2 terminal? Maybe you're keeping a Ironman level in store for a small emergency heal? Anyway, you can store trait points and spend them any time in the trait view of your player menu.
The other thing is buffs to three master traits - Onslaught (apart from improved animation) will now work with automatics and SMGs, and will benefit from Sustained Fire. Additionally, the L1 dodge penalty has been reduced to -30%. Survivor now grants a critical chance bonus dependent on your HP (and has changed prereqs), and Blademaster/Bladedancer have now kinda switched places. You can dual wield blades using Bladedancer and Blademaster gives you automatic attacks after move (Blade-kata? :P).
Station options
Manufacture stations now have the dismantle option, so if you bring an extra multitool to charge them you can manufacture a new weapon and transfer your old mods to it at the same time.
Technical stations now have an Auto-calibration option. For the cost of one charge you can add a very interesting perk to your weapon, check it out (auto-calibration comes also in a kit form). Oh, and repairing at technical station always fully repairs at the cost of that single multitool!
New enemy generation algorithm
Enemy count and type that is placed in a level is now based on the experience they give - hence we get a much more consistent level progression and danger level. XP gains between difficulty levels have also been normalized. As a bonus, Callisto L1 is now guaranteed to give you your first trait if you clear all enemies!
Angel of Exaltation
We noticed that all existing challenges have been beaten on Nightmare, so we're adding Angel of Exaltation for the 1% of crazy marines out there. Like Nightmare, this Challenge isn't even remotely fair! You've been warned!
Minor changes and fixes
Knives have now 50% swap time (why didn't they?), the special loader mod is no more, but a sustain mod is in its' place! Whizkid L2 doesn't grant an extra mod slot, but mod slot counts have been improved.
Quite a few bugs have been squashed, including most importantly one that's been with the game since 0.9.0 that produced an invisible player duplicate. Several Vulkan memory leaks have been squashed, improving stability.
Full Changelog

Beta   0.9.9 - More - May 3, 2021  
NEW    #1243 - message destinations - 4 kinds (mini-levels)!  
NEW    #1243 - 1 of the 3 branches on each moon we'll be locked!  
NEW    #1336 - 6 new exotic armors with unique perks!  
NEW    #1337 - 6 new exotic headgear with unique perks!  
NEW    #1339 - 4 new exotic weapons with unique perks!  
NEW    #1338 - 2 rare new exotic mods to be found!  
NEW    #1330 - you can store trait choices for later!  
NEW    #1264 - Angel of Exaltation!  
NEW    #1317 - XP based monster generation!  
NEW    #1218 - auto-calibration at tech stations and in kits!  
CHANGE #1282 - leaning animation for around corner shots  
CHANGE #1317 - player always gets level 2 if clearing Cali L1  
CHANGE #1294 - Bladedancer is now the blade dual-wield trait  
CHANGE #1294 - Blademaster allows free attacks after a move  
CHANGE #1331 - Onslaught works with autos and SMGs  
CHANGE #1331 - Onslaught now works with Sustained Fire  
CHANGE #1331 - Onslaught L1 dodge penalty reduced to -30%  
CHANGE #1333 - Survivor grants critical chance bonus  
CHANGE #1333 - Angry Mo-fo and Survivor changed prereqs  
CHANGE #1329 - technical station now fully repairs armor  
CHANGE #1218 - manufacture stations now have dismantle option  
CHANGE #1327 - all base items now have 4 mod capacity  
CHANGE #1327 - AV1 items have 1 less, AV2+ have 2 less capacity  
CHANGE #1327 - only Whizkid L3 grants extra mod capacity  
CHANGE #1338 - loader mod pack removed, sustain mod pack added  
CHANGE #1328 - knife has 50% swap time  
CHANGE #1334 - door animations now look as intended  
CHANGE #1100 - better visual rotation tracking  
CHANGE #0101 - elevators have animated doors  
CHANGE #1203 - camera behavior changed  
CHANGE #1203 - player can be gibbed  
CHANGE #0068 - camera zoom/pan modes (WIP)  
FIX    #1335 - fixed some Secure Vault events clearing on enter  
FIX    #1332 - fixed barrel direction for Onslaught  
FIX    #1327 - ADV armor and helmets properly inherit stats  
FIX    #1332 - fixed rare issue with duplicate invisible player```


#### What's next  
Next update, 0.9.10 "Unique" will come to you around May 31, and will feature unique items (duh!), improvement to graphical effects, and some non-unique stuff that I'm sure you'll enjoy ;)