NEW! T.O.X.I.C. Team-up
[/url]
A brand new update brings two brand new members to the T.O.X.I.C. roster: Poizone's robotic army, the Infected Infantry! And Lord Sludge's molten magma monster form, the
Megamortabeast!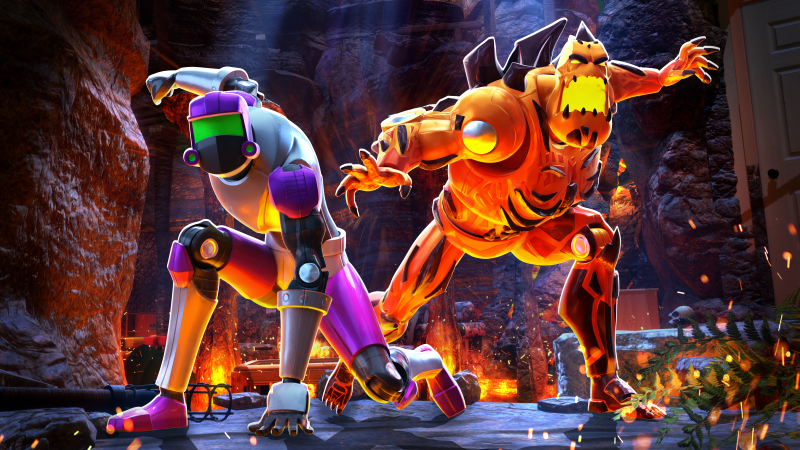 NEW! Vault Jump Ability
Along with these hot new characters comes one cool new move, the Vault Jump! Give yourself an extra boost to reach those platforms that are just a little too far away. And if you're bummed you can't test out this new move with your favorite characters...well we've got some news for you!
NEW! Choice
We've decoupled abilities from their characters so you can now use any character you want with any ability: Sue Nami with Double Jump; Poizone with Boost; Hazard with Slide Jump - go ahead and mix it up!
You also might notice some slick new UI in the game designed to make your lava jumping experience all the more pleasant.
NEW! Items
Every character's progression levels have been bumped up to 60 possible levels. So get in there and jump around to unlock some new stickers, action files, emotes, and new skins. As an added bonus we're also giving everyone free Sea Stealth G.A.T. skins for this Spring update, just because we love you all so much.
If you can't get enough of all things G.A.T., there are all new G.A.T. lore descriptions for Head, Back, and Trinket accessories. Read through them all to learn about the exploits of all your favorite characters.
NEW! Leaderboards
You asked. We listened. Leaderboards are now split up by ability so you can save separate times and replays for each one. Unfortunately (or fortunately depending on your times) we had to reset leaderboards to accomplish this. Fear not, your locally saved replays are still available in their original directory, but your times pulled from Steam will be reset.
As a bonus feature we've also added the ability to change your profile. Free yourself from the tyranny of sharing times with your little sister! Or, if you just want to experience the thrill of unlocking all your items again, now is the perfect time to jump in and get moving. Let the competition begin!
Stay safe. Stay cool. And stay off the floor!
Major patch notes:
Megamortabeast and Infantry
New move set: Vault Jump
Increased character level cap from 45 to 60
April showers brings GAT Navy skins!
New unlockable skins for all characters
New unlockable emotes
New action files
Steam specific:
Leaderboards split per ability
Abilities are selectable separate from characters
Steamcloud saving for all progress including cards and character levels
Save slots for separate progression
Steam leaderboards reset
Hot Lava SDK 460060 patch notes:
Vault jump
Add /modifier chat command to switch between PlayerControllerModifiers (abilities). Accepts partial names so you can use /modifier vault to switch to VaultJumpModifier. For all possibilities, see Modifiers in Assets/Plugins/Hot Lava Mod Kit/Assets/Resources/Modifiers/
Hot Lava SDK Hotfix 463617 patch notes:
Fix clicking "Add Game Mode" causes errors that lead to partially created game modes.