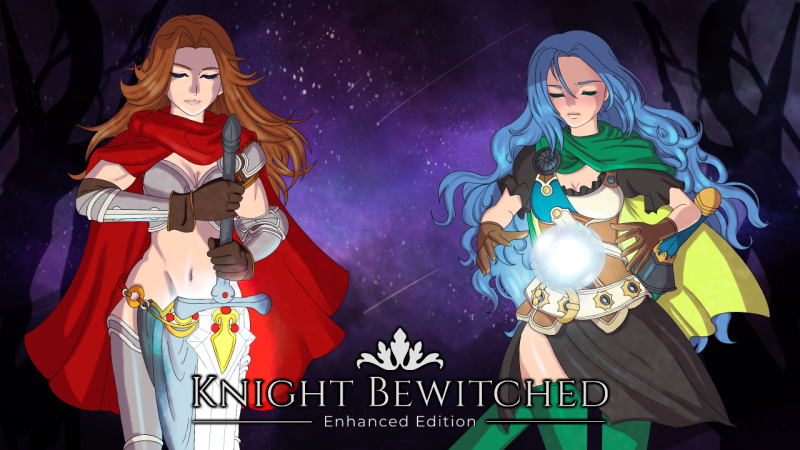 Hello again! I released a minor bugfix patch for the Enhanced Edition demo today:
Fixed some tileset passability issues
The charm-crafting window is now available after Gwen joins the party. If Gwen's already in your party, the window will be available from the Main Menu after you enter the world map once.
Kickstarter Info
The crowdfunding campaign for the Enhanced Edition will launch on April 19, 2021.
**[url=https://www.kickstarter.com/projects/jkweath/knight-bewitched-enhanced-edition]
You can follow this link to be notified when it goes live!
[/url]**
The goal of this campaign is to raise $3000 to fund:
Art illustrations added to the story's most impactful cutscenes by artist [Rae Stilwell](twitter.com/raestilwell) (who also did the Enhanced Edition cover art!)
A mostly-new soundtrack composed by artist and composer Jazz Stewart. If you've played the demo, then you've already heard the new battle and boss themes!
QA testing and misc. script commissions
Backer Rewards
As I've stated before, The Enhanced Edition is completely free for anyone who owns Knight Bewitched. The price is also staying at $4.99.
That said, if you'd like to contribute to the crowdfunding campaign, there's some fun rewards you might be interested in:
$15: Player's Guide and Soundtrack: You'll receive a digital PDF of the new Player's Guide (made by myself) as well as all the new music tracks. The Player's Guide and OST will also be available as paid DLC when the Enhanced Edition launches.
$20: Desktop Wallpapers: In addition to the above, you'll get full-resolution images of each art illustration to use as desktop wallpapers or however you see fit.
$25: Become a Statue!: In addition to the above, You'll get a randomly-generated statue placed in the Halonia Statue Room as well as your name and a brief message of your choosing.
All three tiers also include a Steam key for Knight Bewitched (if you already own it, then give it to a friend!) as well as your name in the end credits.
The Kickstarter will also come with physical rewards that can be added to any reward tier (cost includes S&H):
$14: You'll receive an 11x17 unframed poster of the Enhanced Edition cover art and logo.
$16: You'll receive a physical copy of Knight Bewitched in a traditional CD jewel case with a front-and-back insert. The CD itself will be printed with the original artwork for Knight Bewitched.*****
*After some consideration, I've decided to change the physical CD to include a 2-panel insert instead of the 8-page booklet. This will help keep the cost of the CD down.
The estimated launch date for the Enhanced Edition is August 2021. If you have any questions or feedback, feel free to leave a comment or email me anytime at Jkweath@gmail.com.