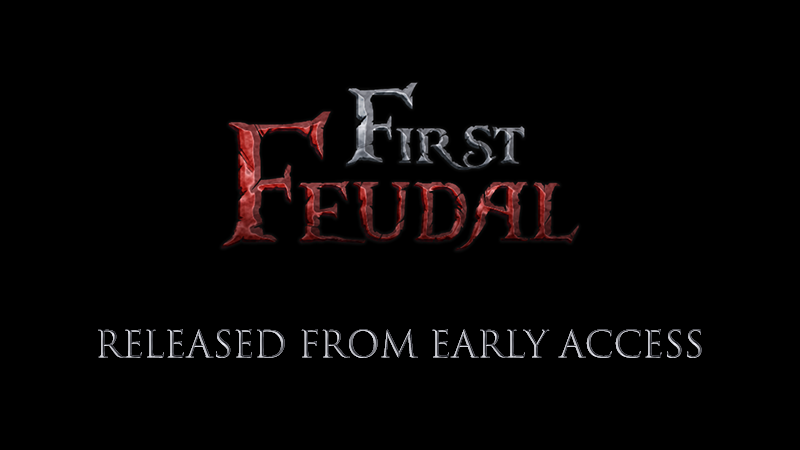 First Feudal is released, which means that it is no longer in early access! Thank you to everyone involved for these 4 years of development, for bug reports, suggestions and their discussions, for the joy of pleasant reviews and tears from angry ones, for streams, articles, help, and just for playing and passing this way with us! But we are not going to stop there and our team is already preparing the next update for you! Hooray! :)
Main features:
Three victory goals (scientific, military, and economic)
New events, including lore events
Ironman (game mode with only one save which automatically will be erased after the feudal lord's death)
Map (available in the game menu)
Game statistics
Five new science upgrades
"Mini-games" for mining, felling, and farming which makes these activities more fun and effective for players
Rebalanced enemy events:
Frequency of enemy events is slightly decreased
Amount of enemies is slightly increased
Enemies evolution speed from the bronze to the steel age is decreased
Enemies difficulty cap is increased
Difficulty of caravan events is increased a bit in the early game and decreased in the late game
Autonomous Drill
Autonomous Smelter
Mint
Bronze Defender (reduces enemy events frequency)
Bronze Knight (increases enemy power and reward)
Stone Pillar (useful for making a roof in big houses)
Added French localization
Minor improvements:
Added debris on the map which can be dug to get resources
Added six new achievements and refactored some old achievements (achievements that required at least 100% difficulty now require Ironman mode). Also, amount of the chests for "Greedy" achievement is reduced from 100 to 50
Added sounds for crafting on many workbenches
Crafted items trying to get in the nearest peasant's inventory with higher priority than in the player's inventory
Updated in-game encyclopedia
Armor of all helmets is increased by 20%
Durability of all breastplates and helmets is increased by 50%
Changed chances to hit different part of body/armor. Helmet: 15% => 23%, breastplate: 55% => 36%, leggings: 20% => 25%, boots: 10% => 16%
Improved icons for displaying enemies, beasts, and selected allies outside of the screen
Improved displaying of the resources searched by LMB in the resources menu
Improved chests and barrels filter interface
Reduced needed amount of wood for part of smelting recipes
Added small icon for items in the trade good's selection screen. This icon shows is good's price lower or higher than the base price
Added new hotkey (Home by default) for showing the main character (in the strategic mode) or for showing the direction to the main square (in the default mode)
Bed's happiness is not displayed on the decoration map anymore (but the happiness bonus from sleeping in the bed remains the same)
Added notification for buildings with blocked interaction point
Prolonged craft buildings automatically switch to the first group after building and use recipes for this group
Slowed down price rising for goods with changing price
Price can't fall lower than 20% of the base price or rise higher than 1000%
Stack limit removed from goods in trade tent - all resources of the same type stacked in one slot
Improved "Trader" and "Masking The Village" traits
Trait "Light-footed" no longer gives immune to slowdown from traps. This ability moved to military bonuses
Added icon for disabled crossbow trap
Added crafting time info into recipe description
Farmers won't harvest farms if the crops amount in storage is higher than the limit set in the farm menu. Previously this limit checked only before farms planting
Frequency of spawning new trees is increased
The settings for mountains and water amount for map generation changed to the humidity setting
Added random rotation angle for spawned enemies
Rotation angle of peasants and enemies is now saved
Updated game credits
Improved fonts quality
Bug fixes:
Fixed an issue where traders didn't pack item if it was stored in the chest with zero priority or if the path to the chest was blocked
A trader can pack not full stacks now
Fixed an issue where a player could walk through the tower
Fixed an issue where farmers couldn't plant trees if a farm blueprint was made before save-loading
Fixed a crash that could occur sometimes after felling the tree which is cut by peasant-feller at this moment
Fixed an unstable crash caused by the death of a peasant while an enemy with a bow was aiming at this peasant
Fixed an issue where buying goods with trade tent didn't affect its price
Fixed an issue with frequent refreshing of the peasant's inventory which caused the closing of the trait interface while the player choosing which trait to learn
Fixed a blink of trait button after player opens his inventory
Main square can be covered by roof now
Fixed an issue where the priority of the ranged weapon was significantly lower than melee weapon priority for the militia
Fixed an issue in multiplayer game where craft animation and progress bar could still be displayed on one client when peasant's profession was changed by another client
Fixed an issue where the recipe list was refreshed only after closing and opening craft interface if another player researched a science with new recipes
Fixed an issue where hunters continue to follow a wild animal for a long time instead of going home
Fixed an issue where some tutorial quests required to do a task again
Fixed an issue where merchant with a cart was displayed in the same place for a long time with moving animation
Fixed an issue where a player could collect resources from an animal while moving
Peasants without selected profession can eat and sleep now
Arrows don't hit knocked down targets anymore
Fixed an issue where corpses disappear after 30 seconds after loading
Enemies stop a moving animation after getting a stun now
Fixed an issue where the icon for peasant-archer which goes to the tower wasn't displayed
Fixed an issue with pathfind where enemies stopped on peasant's corpse instead of continuing the attack
Fixed an issue where trader couldn't retreat after getting a hit by an enemy
Fixed a rare issue where resource amount displayed by thieves event was higher than the actually stolen amount of resources
Fixed a rare issue where bow attack animation was stopped if peasant's profession was changed during the attack and this peasant couldn't change his weapon after that
Added more conditions for enemies spawning point so they won't retreat through mounts or water anymore
Fixed an issue where enemies could retreat with dash speed bonus if they were start to retreat while dashing
Death sound doesn't play after enemy retreat anymore
Fixed hp bar displaying for some buildings
Fixed an order for displaying trade tents, merchant tents, and corpses
Fixed an issue where deactivated traps image changed to the image of activated trap after loading
Fixed an issue where crossbow trap didn't spend arrows for shots
Fixed the "Highlander" trait. Now it restores 50% of player's health
Fixed the "Masking The Village" trait. Reducing of enemies event frequency was not so effective as written in the description
Fixed an issue where peasant didn't get "Rest" buff during the sleep
Fixed an issue where loot could be displayed on the ground after it actually disappears
Fixed an issue where sheep's wool could display for recently spawned sheep without wool
Fixed an issue with cursor displaying while ordering to attack or to move for selected peasants
Fixed an issue where some tips were displayed too often
Fixed an issue where sound of working craft bench could remain on the old place after relocating this craft bench
Ambient sound stops while an event or game menu is displayed
The music volume is changed right after changing it in the Settings (previously it was changed only after applying setting changes)
Lots of text improvements and fixes
Game settings will be reset to default after the updating.