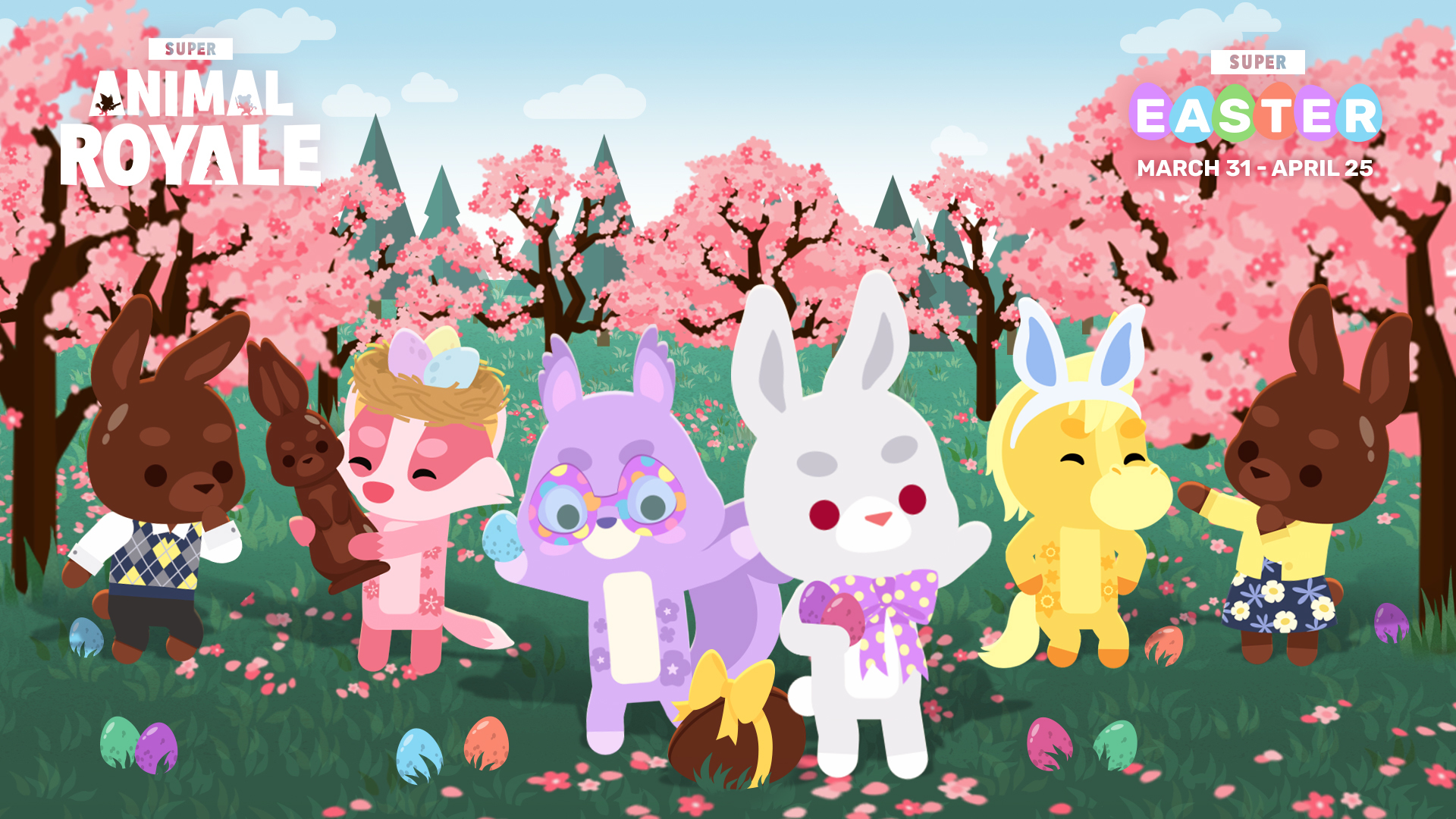 The Super Easter egg hunt has begun! Trade in your eggs for holiday-exclusive cosmetic items and round up your best squad for the brand new Mystery Mode.
Super Easter Starts Now
Collect eggs until the event ends on April 25th at 11:59pm PDT!
Redeem your eggs for 8 new event cosmetics:
Pink Polka Dot Bow (hat)
Easter Egg Glasses
Easter Bird's Nest Hat
Easter Vest
Flower Dress
Blue Bunny Ears
Chocolate Egg Gravestone
Chocolate Bunny (melee)
Or spend them to collect 14 returning legacy Super Easter cosmetics!
New Super Animal spring flower breeds have also arrived in the Research Lab:
Super Cherry Blossom Badger
Super Violet Squirrel
Super Daffodil Horse
Starting tomorrow (April 1st), the Super Bunny Beanie will be available in Carl's Cart along with Banana (melee) and Banana Umbrella from previous year April 1st banana events.
S.A.W. Shop Bundles
Thanks to some hard work from Ms. Macawsome, the S.A.W. Shop now has support for discounted item bundles! The first bundle will be available tomorrow, April 1st at 6pm PDT when the shop rotates and is themed to get you in the spirit for spring:


This is only the first of many bundles, so you can check the shop weekly to see all the new ones we've created! If you already own an item in a particular bundle, you'll still be able to purchase the bundle to complete your set and it'll automatically adjust its S.A.W. Ticket price to give you the same bundle discount on the remaining items that you don't yet own.
We also have a surprise new weapon cosmetic that will be rotating into the shop for April 1st tomorrow...praise banan!
Mystery Mode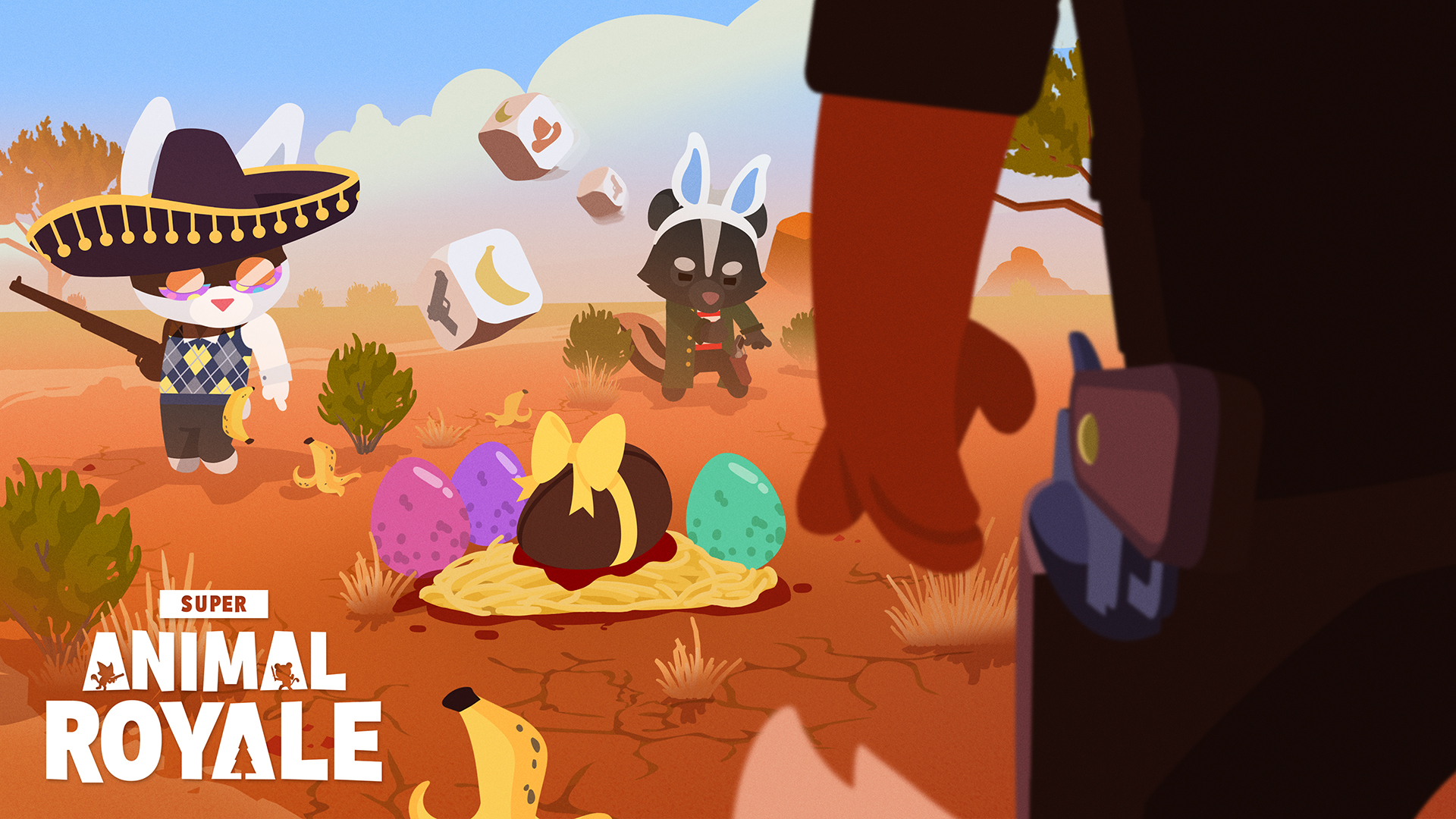 A new limited-time squads game mode has arrived and will be active for the duration of the Super Easter Event, until April 25th at 11:59pm PDT!
Join a lobby with a squad of up to four and a dice roll will deliver you one of 7 modified riffs on the battle royale mode:
Bananarama - Praise banan! Gun bullets are bananas, bananas spawn more frequently, grenades/skunk bombs are banished, and every time it rains it'll be banan rain.
Wild West - Cowboy hats for all and weapons are limited to magnums, hunting rifles and bananas. Specific to this mode, magnums and hunting rifles are available in every different rarity tier including epic and legendary!
Shotguns & Snipers - Only shotguns and snipers will spawn, but they can be found in every rarity tier in this mode, so you can find an epic shotgun in a Rebel Cache or a gray sniper on the ground.
Super Slow Bullets - All weapons shoot with 50% bullet speed so you can get your super dodge roll on to avoid them.
Super Fast Bullets - All weapons shoot with 200% bullet speed!
Handguns Only - Only pistols, dual pistols, silenced pistols, magnums and deagles.
One Hit Kill - Every weapon kills in a single shot (or hit or peck). Armor, grenades and skunk bombs are disabled and skunk gas speed and warning times are 20% faster.
New Animal Pass Season Begins in Late-May!
We'll have more details on the next season of the Animal Pass as we get closer to it, but it's officially coming in late-May! We've added the late-May date to the pass in-game as well and will update it with the specific date as we approach it.
More v0.96.9 Updates
A new set of milestones has been added for munching mushrooms. The new item rewards for completing them are: a Mushroom Shirt, Mushroom Umbrella, and Mushroom Cap.
Existing milestone items will have their rarity converted from orange to a suitable regular rarity color. The gun skins are already like this so we are finally standardizing for all (this is just a visual change).
Dogna's Dart Gun clip size increased from 5 to 6, and maximum ammo increased from 30 to 35. This change helps give a bit more breathing room for missing a few shots, and we will also be evaluating other improvements if necessary in the future (especially around healing).
The current game mode is now displayed in-game below the minimap in the lobby and in the paws menu during a match.
Toggling UI off will now also turn off the recently added arrow that points to the Circle of Life when tutorials are turned on.
Fixed a bug where invisible mushrooms could be pinged during a match lobby.
The next update after the Easter event ends will be a Major Update in late-May that includes the new Animal Pass season, so it'll be a bit of a longer gap between updates than usual, but we think it'll be worth it once you see what we have in store! We'll have more to share leading up to the update including another content creator item giveaway with brand new items, so keep your super eyes peeled for more info later in the month. 👀
Cherry blossom season is also almost here so watch our social media channels for the Sakura code making its return very soon!