Artwork showcased: "Donut Thief"
Update Highlights
Server browser improvements
This update brings major improvements to the server browser. The purpose of these changes is to help players find the content they are looking for more easily.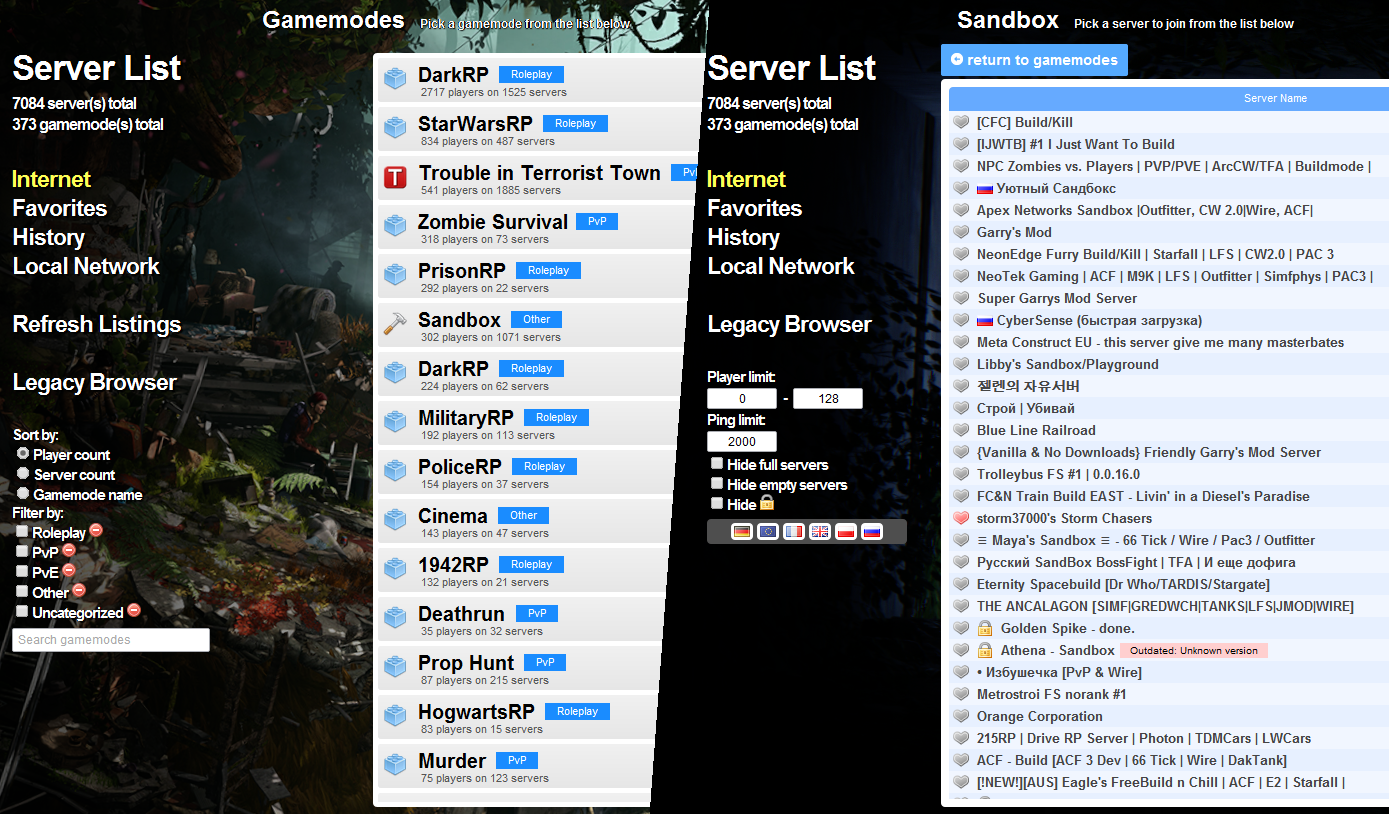 First of all, gamemode categories were added to the server browser. This requires all server owners and gamemode developers to update their gamemodes and set an appropriate category.
It may take a while for most gamemodes/servers to conform, but the goal of this change is to allow players filter gamemodes by these new categories and find what their are looking for easier.
if you are a server host or a gamemode developer, you can find more info about this topic here:
https://wiki.facepunch.com/gmod/Gamemode_Creation#category
Secondly, the server browser now shows the location/spoken language of the server via a country flag icon. This setting is per server and is designed to help players more easily find servers from a preferred location and/or find servers with a common spoken language they can understand.
If you are a server host you can find the details about country flags here:
https://wiki.facepunch.com/gmod/Downloading_a_Dedicated_Server#locationflag
And lastly the server browser got a few new filtering/sorting options, such as filtering servers by ping/player count and sorting the gamemode list by name or server count.
These features may be changed in the future based on the long term feedback from players, developers or server hosts (such as which gamemode categories should be available in the server browser), so please do not hesitate to let us know what you think on our official Discord server (https://discord.com/invite/gmod), or in the Steam Discussions area of the Garry's Mod Game Hub
Problems menu
Another new feature is the Problems menu. Accessible from the main menu, it is designed to help players resolve common issues without needing to ask for help.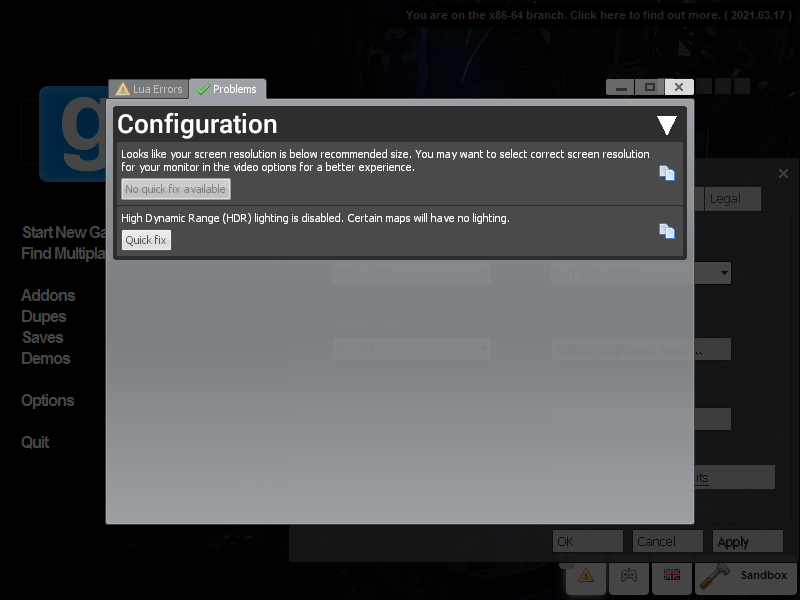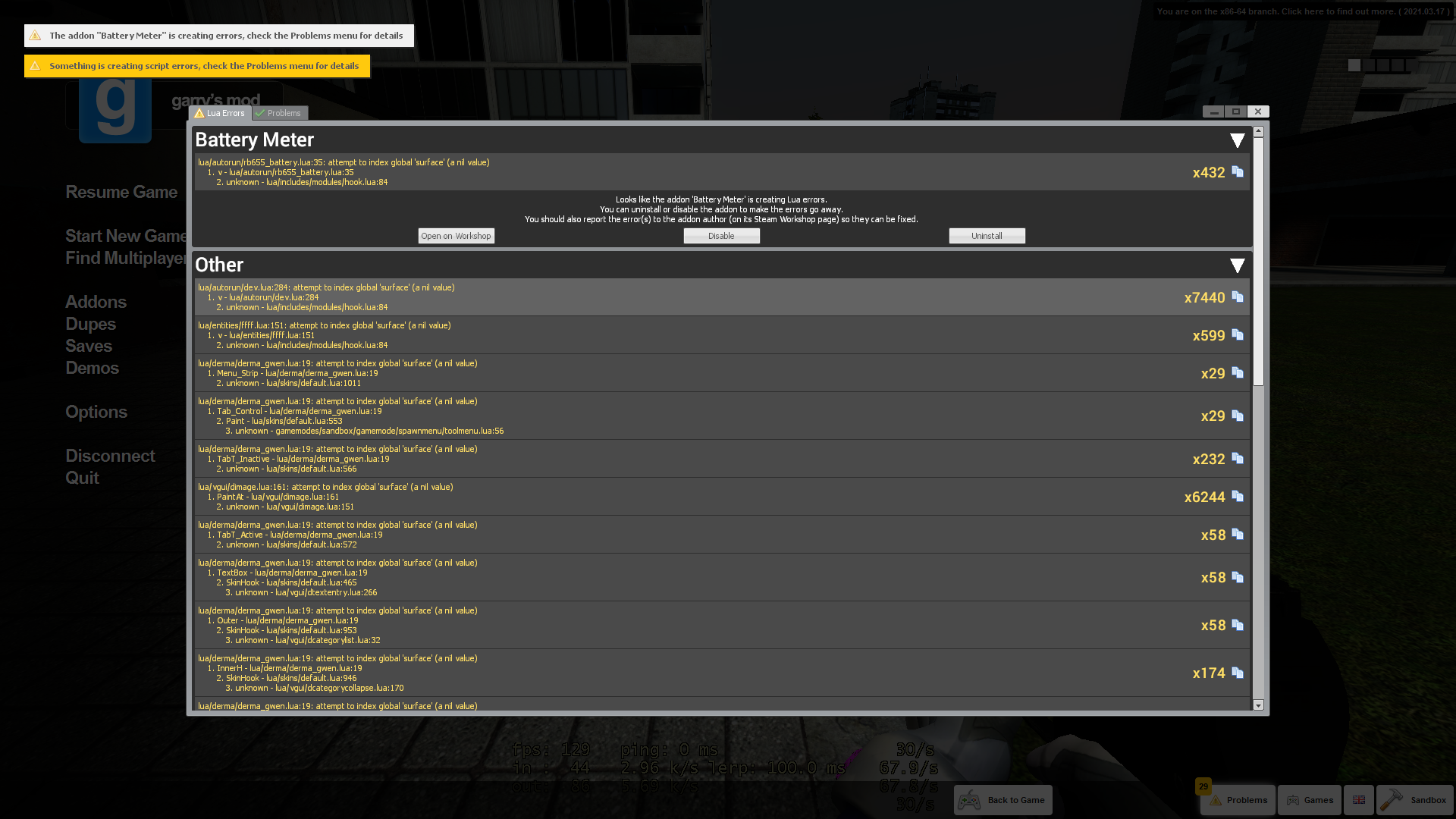 The first tab reports Lua errors that have occurred during a play session. They are categorized per addon, with options to disable or uninstall the problematic addon, or to open the addon on Steam Workshop if possible.
Players can easily copy the Lua errors (or other problems) via the Copy button on the right, enabling them to quickly report errors generated by the addons to the addon authors.
The second tab called "Problems" analyzes the game and reports common issues, such as screen resolution being set too low, certain settings being disabling which cause graphical issues and more.
These problems have a "Quick Fix" button where possible to quickly resolve the issue.
In the future this menu will be expanded to report more issues and provide other maintenance services.
Hammer Editor improvements
This update also brings many changes to the Hammer Editor shipped with Garry's Mod. Many crash issues were fixed, new Sprinkler tool was added and many quality of life changes were introduced.
The user interface was updated and now more closely matches the UI of your Operating System.
If you are a mapper you will most definitely want to read the complete list of changes linked below. (Change List 4)
Things to watch out for
There are some Lua API changes that will break existing scripts. These changes are unfortunately a necessary evil, and will not take long to fix. Specifically the behavior of Vehicle.SetVehicleParams has changed. You will find all of the details in the change list linked below, but the big issue that was fixed is with the vehicle speeds, where you no longer need to manually adjust between Hammer Units and Inches if modifying data from Vehicle.GetVehicleParams.
You will find the full change list for this update in our blog post:
https://gmod.facepunch.com/blog/march-2021-update