To defeat the dark, one must first become it.
https://store.steampowered.com/app/1321770/Aeons_End__The_Nameless/
The Nameless expansion is now available as DLC. It includes:
• Blight Lord - nemesis
• Wayward One - nemesis
• Malastar - playable mage with unique starter card (Immolate)
• One gem - Leeching Agate
• Two relics - Molten Hammer & Temporal Helix
• Four spells - Blaze, Sage's Brand, Scrying Bolt, & Radiance
New Player Cards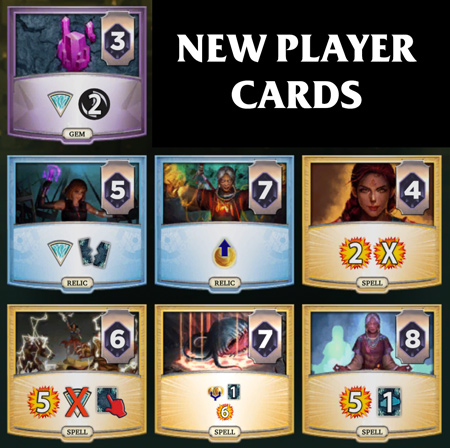 Nemesis: Blight Lord


The Blight Lord was the first of The Nameless to touch The World That Was. With a quick and deliberate hand, the great city of Karek was turned to a mountain of green glass, its many thousands of denizens entombed within. The harbor towns of M'blark were next to fall, the warm waters lapping against the jagged frozen shapes of those caught unaware. Even the very earth below its shadow became glass, left to shatter into crude and useless shapes. The elder of the First Tribe bade his people to pay it tribute, for in his ignorance he considered it a divine messenger from the gods they worshipped then. Of those that knelt before it, none were spared. And thus the Blight Lord was given its name, for the certain ruin of our people followed it like some merciless plague.
Nemesis: Wayward One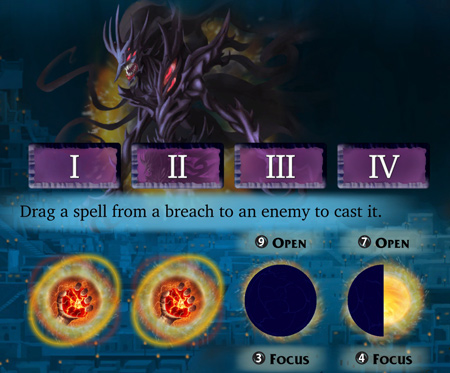 This creature is an oddity, even amongst its odd kind, trapped in a place neither here nor there. The scouts first saw it from the west wall, flickering against the vault of the cave. They say it wailed as it fluttered through the city's defenses like a broken ghost. A merchant in the dirt market made the mistake of brushing the wisps of its floating form as she threw up her hands in horror. She began to fade away as soon as the dust of the thing sifted between her fingers. And then it too was gone. Like us, it is lost. Of all The Nameless that have plagued us here in our last sanctum, the Wayward One alone seems almost tormented by the task. The breach mages say they show compassion toward the wretched thing by fighting against it with all their might, for like us, it is seeking an end to its struggle.
Breach Mage Mentor: Malastar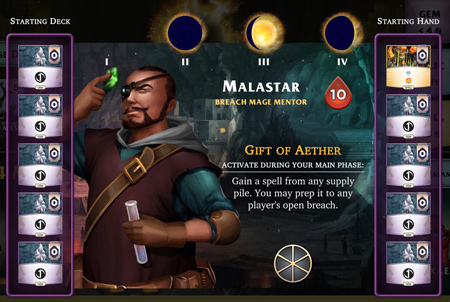 You can always tell which younglings will be mages. Mostly, they are girls, but sometimes a boy-child will carry the spark, though weaker than their sister-kind. Training each of them is my sad calling, for mages come and go like the black days in this place. First, they learn the sister-words, the mage's tongue, the language of all things. Next we fashion them a gem, one that is theirs alone, a conduit for their nascent power. After this, Kadir takes them deep within the bowels of the cave, where they must find their way back with only their gem to protect them. Many find their way home, but we have lost many would-be mages in my years. A student's last task is to slay a beast, armed again only with their gem and their wits. The child is dropped down a shaft outside Chasmwalk, left alone with whatever miscreation we have snared from the void. Sometimes the creature is wounded, weak, but always they are hungry. A student that navigates this ordeal is named apprentice. After that, one need only survive long enough to earn the rank of mage.
Other new features and fixes
• You can now customize your Aeon's End experience with card sleeves, playmats, and nemesis & mage skins! Visit the Customize screen to try it out.
• Undo now checks more cases for revealing new information.
• Added four new achievements to unlock.
• The Four by Four achievement is now awarded properly.
• Fixed a problem where the game could get stuck if Xae used her charge ability on a spell with Durability.
• Various other small bug fixes and improvements have been made.