Hello, everyone! It's been a while since our last update, about 6 weeks, and we don't like to go that long without keeping you all updated. We're firm believers in the idea of developers staying transparent and we've seen people constantly say with other games that even something as small as a "we're still working" goes a long way, so with that in mind: We're still working. :P
Obviously our current focus is on chapter 3 and getting that out to you all and we're hard at work on that, but we're still improving the rest of the game as we go with balance and optimization tweaks and other quality of life stuff, so we figured now was as good a time as any to patch some of that stuff in. Most of today's patch is focused on bug fixes and minor cosmetic things, with the most notable being a new water shader that we've integrated into the game. We think it looks much much better than the one we were using and really helps to solidify the toony visuals we've got going. It has a real Wind Waker vibe to it and we're very happy with how it's improved the look of the game. You can check out the full patch notes below to see everything included with today's patch.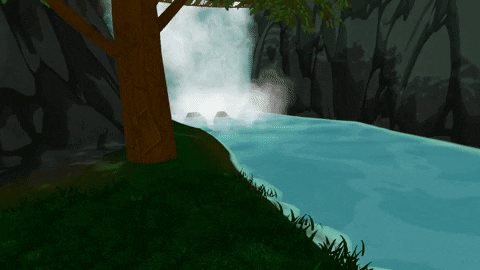 Full Patch Notes
Additions and Improvements
Changed the water shader used everywhere in the game over to a new and improved one that's more in line with the art direction of the game.
Tweaked your inventory holster to be better aligned with your equipment.
Striking enemy armor will no longer result in blood spray, but instead will send sparks flying.
Increased the visibility of the Goblin Mage's AoE attack so it's more apparent when they're casting it under you.
Improved the navigation pathfinding in the tutorial scene so that enemies could follow you into your house.
Corrections and Bug Fixes
Added a fix to the pressure plates puzzle for anyone who might have lost some of the objects in the room. If any of them are out of bounds, they'll respawn at their original locations within the room.
Fixed a bug where the pressure plates puzzle would be considered correctly solved even with multiple objects on the plates so long as the first object placed on each was the correct one for that plate. It will now only be properly solved if only the correct object is on the correct plate.
Fixed a bug that would sometimes cause your stats to persist if you returned to the main menu from a saved game and started a new save.
Corrected an issue causing the center playspace marker to go invisible when walking over certain materials.
Fixed a bug that would keep spell orbs in Seraf's hand after he completed casting the spell.
Made it so the 7th elixir would be spawned immediately upon completing the required task to make it accessible where it previously would only happen if you reloaded the scene/returned to checkpoint.
Fixed some faulty collision that could force you through some walls in the Serafin Castle area.
Fixed a minor graphical issue with the Kinetic Thrust spell altar that occurred when the scene was reloaded.
That's it for today, everyone! Our next planned announcement will be in regards to chapter 3 as we begin showing some of the stuff you can expect to encounter there. In the meantime we'd like to invite you all to join our discord to keep up to date on development and have a direct means of sharing your feedback with us. We've made a lot of improvements to the game thanks to our great community and we really appreciate everyone who takes the time to share their thoughts and help us make the game better!
Happy adventuring, everyone!