Valve has partnered with Perfect World to bring an onshore version of Steam to China, called Steam China (蒸汽平台). At this time, Valve is working with a select group of partners for releasing games on Steam China.
You can browse this store at https://store.steamchina.com/
As the Steamworks documentation states:
A prerequisite to publishing games on Steam China is receiving Chinese government approval for your game. Upon receiving approval, the Chinese publisher of your title will be issued an ISBN number, which will be displayed on your Steam China product page. Please note this prerequisite does not apply to non-gaming applications, which can be directly self-published.
If you have an existing ISBN number for your game, are currently undergoing the formal approval process with a Chinese publisher, or would like to publish a non-gaming app on Steam China, please submit a developer ticket along with the AppID of the app you are considering, and we can help you with next steps. If you have not yet started the approval process and would like to learn how Perfect World can partner with you as your local Chinese publisher to bring your game to Steam China, please stay tuned as more information will be available soon.
So what is it, really?
Valve already provided special launchers for CS:GO and Dota 2 for China, which were "operated" by Perfect World. In reality, these launchers were very minimalistic Steam clients, and connected to Steam servers operated by Valve. You can read more about this in our in-depth investigation here.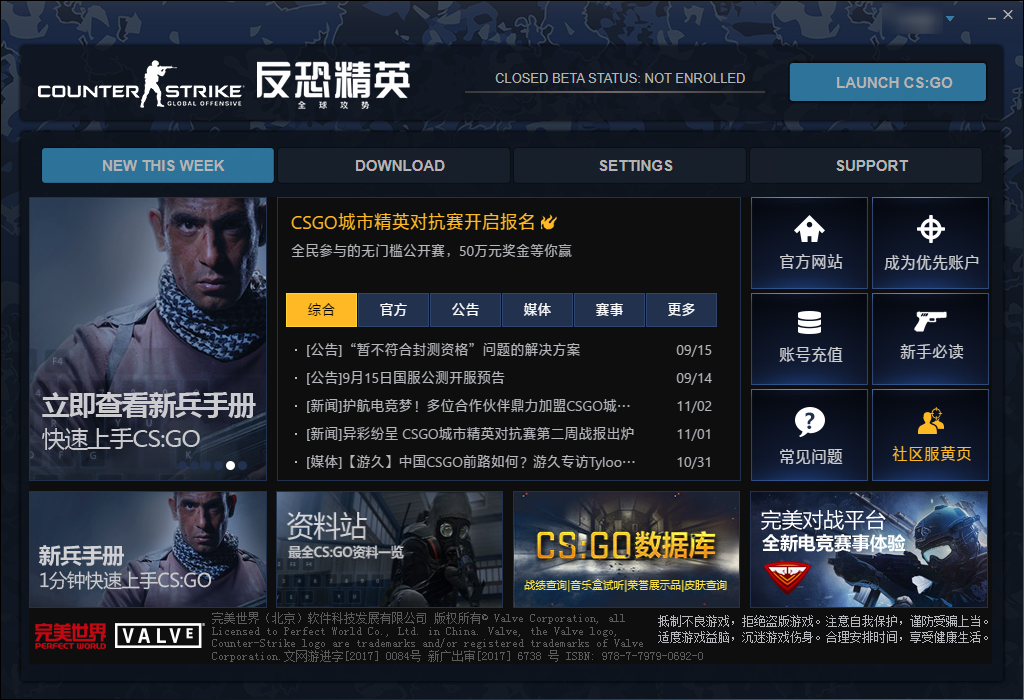 Steam China is a consolidation of these previous efforts, bringing the separate launchers into one ecosystem. The accounts used by these launchers were still Steam accounts, and with this launch they were simply migrated.
This platform is entirely interconnected with global Steam, which can be easily verified by using cookies from steampowered.com on steamchina.com. As well as other hints such as review count on CS:GO's store page which matches the global Steam.
Steam China websites are heavily cut down on features, almost everything related to the Steam community is not there, such as the market, discussions, workshop, and everything else. The only available things are the profile pages, their game list and inventory.
Right now there are only 41 games available on the platform compared to over 48 thousand on global Steam.
Game purchases are shared between the platforms as well. Game purchased on global Steam will be available to you on Steam China if it is available there, and vice versa.
Will this affect player counts?
As our investigation back in 2018 concluded, players from China were always counted. On top of that, in 2019, a Valve employee confirmed to us that Steam APIs and websites report logged-in Steam accounts and do not exclude specific regions.
And with Steam China launch, that will continue to be the case because under the hood it is still global Steam and operates on the same database.
Will normal Steam be banned in China?
Short answer, we don't know.
In 2019, in an interview with Eurogamer asked Valve's DJ Powers "So Steam global will still be available in China?", and he answered "Nothing'll change about Steam global.".
As it stands, Chinese users already needed a VPN to access steamcommunity.com.
We don't see Valve willingly blocking Chinese users from accessing global Steam, not at least until all the features are available on Steam China. Big ones would be the market, workshop, and basically most of the Steam community features.
SteamDB
As for us, our website already had some hints about Steam China for months. There are a few keys you can browse:
We have also added support for my.steamchina.com profile links in our calculator.