SAN DIEGO, CA - August 27, 2015 - Rocket League, the popular and critically-acclaimed sports-action title from independent game developer, Psyonix, is one of the top games of the summer. Having sold more than 1 million copies via Steam since its release last month, Rocket League is now officially heading to the SteamOS and Mac platforms later this year. To prepare for the SteamOS launch, Psyonix and Valve are immediately offering Rocket League for free to those who pre-order (or have pre-ordered) any of the Steam Hardware devices (Steam Controller, Steam Link, or Steam Machine).
Rocket League brings players a high-powered hybrid of arcade-style soccer and vehicular mayhem. Offering easy-to-understand controls and fluid physics-driven gameplay, Rocket League boasts more than 10 billion possible garage customizations and multiple match settings. As one of the best-selling titles of the year, Rocket League is already one of the top titles featured in multiple eSports leagues throughout the world and has been one of the most watched games on YouTube and Twitch throughout the summer.
"User reviews, sales of Rocket League on Steam, and its surging rise among eSports enthusiasts make it clear that the game is an absolute sensation," said DJ Powers at Valve. "In addition to being tremendously fun, our testing shows it plays brilliantly with the Steam Controller. So it was a natural decision for us to work with Psyonix and offer it to gamers free of charge when they pre-order a Steam Hardware device."
"We're extremely excited about SteamOS and Mac," said Dave Hagewood, Founder and President of Psyonix. "Our PC players have already proven how much passion they have for our game, and this is a great opportunity for us to bring Rocket League to an even wider audience inside the Steam family"
For the next 48 hours, Rocket League will be available on Steam at a 10% discount to celebrate the big news.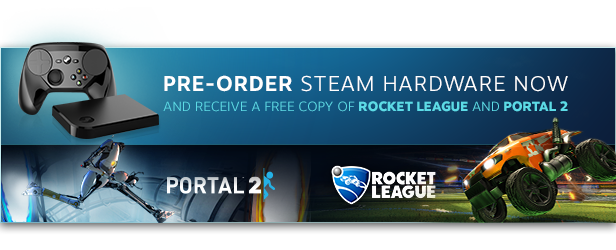 The free copy will be available to those who pre-ordered (from Steam or retail) the Steam Controller, Steam Link or Steam Machine. Customers who already own Rocket League but pre-order the hardware anyway will be given an additional copy that they can gift to a friend.
For more information, please visit http://store.steampowered.com/app/252950/
---
ABOUT PSYONIX
Based in San Diego, CA. Psyonix is an independent video game developer with almost 15 years of experience. As experts in Unreal Engine technology, Psyonix has been a driving force behind some of the most successful games in the industry, including Gears of War, Mass Effect 3, XCOM: Enemy Unknown, Bullet Storm, Unreal Tournament III, Unreal Tournament 2004, Nosgoth, and the recently-released futuristic Sports-Action hit, Rocket League.
For more information, visit www.psyonix.com.