| | |
| --- | --- |
| App ID | 567630 |
| App Type | Game |
| Developer | YC Games |
| Publisher | YC Games |
| Supported Systems | Windows |
| Last Change Number | 14869420 |
| Last Record Update | 20 May 2022 – 08:44:22 UTC () |
| Release Date | 20 October 2020 – 09:23:33 UTC () |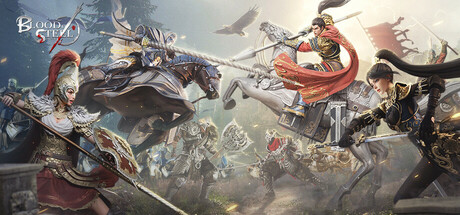 Blood of Steel is an online competitive game. From Joan, Caesar, Alexander...hundreds of historical heroes all over the world. Lead them and your army of thousands soldiers to defeat your enemies on the epic battlefield. Play rank mode, siege the castle, as the king of the Steel Land, be the legend
Additional Information
clienticon
03e25cd63cf4498327dc2f147d25f61fd88879b0
clienttga
d3936b79c5a4b531478c5bc683da1c796347d2e1
icon
d355a0241e504f3f4bd96d926d79ae1ec661dad5
logo
a7dc8aeb6a2bbe3839900df312da9a8355a52614
logo_small
a7dc8aeb6a2bbe3839900df312da9a8355a52614_thumb
metacritic_name
Blood of Steel
community_visible_stats
Yes
ReleaseState
released
IsFreeApp
Yes
eulas
Achievement Languages
English, German, French, Korean, Spanish - Spain, Simplified Chinese, Traditional Chinese, Russian, Thai, Japanese, Portuguese
Exclude from family sharing (exfgls)
Yes
has_adult_content
Yes
Store Release Date
20 October 2020 ()
osarch
empty string
community_hub_visible
Yes
small_capsule
header_image
Associations

| | |
| --- | --- |
| 0/name | YC Games |
| 0/type | developer |
| 1/name | YC Games |
| 1/type | publisher |

Primary Genre
Strategy (2)
Store Genres
Action (1), Free to Play (37), Massively Multiplayer (29), Strategy (2)
Supported Languages

| | | | |
| --- | --- | --- | --- |
| 11 Languages | Interface | Full Audio | Subtitles |
| Simplified Chinese | Yes | Yes | Yes |
| English | Yes | Yes | Yes |
| Traditional Chinese | Yes | Yes | Yes |
| French | Yes | | Yes |
| German | Yes | | Yes |
| Spanish - Spain | Yes | | Yes |
| Russian | Yes | | Yes |
| Japanese | Yes | | Yes |
| Thai | Yes | | Yes |
| Portuguese | Yes | | Yes |
| Korean | Yes | | Yes |

Steam Release Date
20 October 2020 – 09:23:33 UTC ()
Store Asset Modification Time
4 June 2021 – 07:09:45 UTC () (1622790585)
library_assets
osextended
empty string
name_localized
{}
Is free on the store?
Yes
Web Assets
review_score
6
review_percentage
77
has_adult_content_violence
Yes
Detected Technologies (?)
SDK.CEF, SDK.FMOD, SDK.NVIDIA_PhysX
Steam Deck Compatibility

category: Unsupported
test_timestamp: 22 February 2022 – 00:00:00 UTC
tested_build_id: 81120219
configuration:

non_deck_display_glyphs: 0
primary_player_is_controller_slot_0: 0
recommended_runtime: proton-stable
requires_h264: 0
requires_internet_for_setup: 0
requires_internet_for_singleplayer: 0
requires_manual_keyboard_invoke: 0
requires_non_controller_launcher_nav: 0
small_text: 0
supported_input: other

Valve is still working on adding support for this game on Steam Deck

Store API Release Date (may be wrong)

20 October 2020 – 09:23:33 UTC () (1603185813)
192 players right now
543 24-hour peak
2,203 all-time peak
Copy this code and paste it into your website:
<iframe src="https://steamdb.info/embed/?appid=567630" height="389" style="border:0;overflow:hidden;width:100%" loading="lazy"></iframe>
High-resolution Steam charts
Due to constant crawling, charts data is limited. You can login to view full data.
Initializing graph of a week…
Lifetime concurrent players on Steam
Data is limited. You can login to view data per day.
Initializing graph of a year…
Concurrent players
192 players right now
543 24-hour peak
2,203 all-time peak
Store data
24,752 followers
4,513 positive reviews
1,284 negative reviews
77.85% positive reviews
Playtime estimations by SteamSpy
0 minutes median playtime in last 2 weeks
6.1 hours median total playtime
0 minutes average playtime in last 2 weeks
12.1 hours average total playtime
Twitch Stats
0 viewers right now
18 24-hour peak
5,837 all-time peak
Steam game hub followers chart
Initializing followers chart…
Monthly breakdown
Login to see a player breakdown per month.
How many players are playing Blood of Steel right now on Steam? There are 192 players in Blood of Steel on Steam. Blood of Steel player counter. Blood of Steel Steam charts.
Packages that include this app
| SubID | Name | Billing Type | Last Update |
| --- | --- | --- | --- |
| 143544 | Steam Sub 143544 | CD Key | 7 December 2016 – 08:59:43 UTC |
| 143545 | Blood of Steel for Beta Testing | CD Key | 7 December 2016 – 08:59:43 UTC |
| 143546 | Blood of Steel | Free on Demand | 2 July 2021 – 05:48:37 UTC |
| 511611 | Steam Sub 511611 | No Cost | 19 October 2020 – 09:47:05 UTC |
Want to highlight which packages you own? Install our browser extension
Downloadable Content
| AppID | Name | Last Update |
| --- | --- | --- |
| 1228340 | Blood of Steel:Richard I | 15 August 2021 – 11:25:53 UTC |
| 1472240 | Blood of Steel:King's Mount | 1 June 2021 – 11:12:32 UTC |
| 1472300 | Blood of Steel:Beginning Pack | 1 June 2021 – 11:12:32 UTC |
| 1472310 | Blood of Steel:Ladies on the Battlefield | 1 June 2021 – 11:12:32 UTC |
| 1695390 | Blood of Steel:Sweet JK | 30 September 2021 – 08:05:10 UTC |
| 1695410 | Blood of Steel:Viking Queen | 30 September 2021 – 08:05:10 UTC |
Depots
ID
Name
Max Size
OS
Extra Info
228983
VC 2010 Redist
18.37 MiB

Shared Install

Depot from 228980
228990
DirectX Jun 2010 Redist
98.16 MiB

Shared Install

Depot from 228980
229002
.NET 4.0 Redist
48.11 MiB

Shared Install

Depot from 228980
567631
Blood of Steel Content
50.37 GiB
1228340
blood of steel:Richard I (1228340) 个 Depot
No size

Unused

DLC 1228340
1472240
Blood of Steel:King's Mount (1472240) 个 Depot
No size

Unused

DLC 1472240
1472300
Blood of Steel:Beginning Pack (1472300) 个 Depot
No size

Unused

DLC 1472300
1472310
Blood of Steel:Ladies on the Battlefield (1472310) 个 Depot
No size

Unused

DLC 1472310
Branches
Other
| Name | Value |
| --- | --- |
| baselanguages | English, German, French, Korean, Spanish - Spain, Simplified Chinese, Traditional Chinese, Russian, Thai, Japanese, Portuguese |
| hasdepotsindlc | 1 |
Launch Options
0. Unnamed launch option
| | | |
| --- | --- | --- |
| Executable | x64\BosClient.exe | |
| Arguments | tjxbsteam | |
| Launch Type | Launch (Default) | |
| Operating System | windows | |
Configuration
| Key | Value |
| --- | --- |
| installdir | Blood of Steel |
Other apps that reference this app
Loading…
History
Crunching history, just for you…
API name
Display name and description
Icons
TASK_830
Leadership Ⅰ

Collect 5 Heroes

TASK_836
Invincible Hero

Upgrade 1 hero to Lv.11

TASK_839
Warlord Hero

Upgrade 1 hero to Lv.12

TASK_842
Warrior Leader

Obtain 1 permanent Warrior Hero

TASK_844
archer Leader

Obtain 1 permanent Ranger Hero

TASK_846
Rider Leader

Obtain 1 permanent Rider Hero

TASK_832
Leadership Ⅱ

Collect 25 Heroes

TASK_857
Groom Ⅰ

Own 10 permanent Horse Skins

TASK_858
Skin Collector Ⅰ

Own 10 Hero Skins

TASK_861
Primary Weapon Collector Ⅰ

Own 10 permanent Primary Weapon Skins

TASK_865
Back Accessory Collector Ⅰ

Own 10 permanent Accessory Skins

TASK_868
Shield Collector Ⅰ

Own 10 permanent Shield Skins

TASK_864
Secondary Weapon Collector Ⅰ

Own 10 permanent Secondary Weapon Skins

TASK_860
Skin Collector Ⅱ

Own 50 Hero Skins

TASK_863
Primary Weapon Collector Ⅱ

Own 50 permanent Primary Weapon Skins

TASK_867
Back Accessory Collector Ⅱ

Own 50 permanent Accessory Skins

TASK_853
Rider Companion Ⅰ

Have 1 in-game friend

TASK_954
Millionaire Ⅰ

Gain 10000 Silver

TASK_956
Millionaire Ⅱ

Gain 1000000 Silver

TASK_1030
Battlefield King Ⅰ

Complete 20 battlefields

TASK_1031
Battlefield King Ⅱ

Complete 200 battlefields

TASK_1032
Battlefield King Ⅲ

Complete 2000 battlefields

TASK_1046
Ever Victorious Army

Get 10 wins in Randed Match mode

TASK_1047
Ever Victorious Army Ⅱ

Get 100 wins in Randed Match mode

TASK_1035
Restless

Get 100 wins in 5V5 Rank Practice mode

TASK_1039
Restless Ⅱ

Complete 100 victories in 7v7 Corps Battle

TASK_1043
World Shaker

Complete 100 victories in 10v10 Great Battle

TASK_1050
Easy As Pie Ⅰ

Slay 10 heroes

TASK_1051
Easy As Pie Ⅱ

Slay 100 heroes

TASK_1052
Easy As Pie Ⅲ

Slay 1000 heroes

TASK_1054
Super Killer Ⅰ

Kill 50 enemies

TASK_1055
Super Killer Ⅱ

Kill 500 enemies

TASK_1056
Super Killer Ⅲ

Kill 5000 enemies

TASK_1058
Support Master Ⅰ

Complete 50 assists

TASK_1059
Support Master Ⅱ

Complete 500 assists

TASK_1060
Support Master Ⅲ

Complete 5000 assists

TASK_1062
Pledge Power Ⅰ

Complete 20 battles with Warrior Hero in Legion War/Ranked Legion War

TASK_1063
Pledge Power Ⅱ

Complete 200 battles with Warrior Hero in Legion War/Ranked Legion War

TASK_1064
Pledge Power Ⅲ

Complete 2000 battles with Warrior Hero in Legion War/Ranked Legion War

TASK_1066
Falcon Strike Ⅰ

Complete 20 battles with Ranger Hero in Legion War/Ranked Legion War

TASK_1067
Falcon Strike Ⅱ

Complete 200 battles with Ranger Hero in Legion War/Ranked Legion War

TASK_1068
Falcon Strike Ⅲ

Complete 2000 battles with Ranger Hero in Legion War/Ranked Legion War

TASK_1070
Shadow Raider Ⅰ

Complete 20 battles with Rider Hero in Legion War/Ranked Legion War

TASK_1071
Shadow Raider Ⅱ

Complete 200 battles with Rider Hero in Legion War/Ranked Legion War

TASK_1072
Shadow Raider Ⅲ

Complete 2000 battles with Rider Hero in Legion War/Ranked Legion War

TASK_1074
All-conquering

Complete 20 victories in Siege Battle

TASK_1075
All-conquering Ⅱ

Complete 200 victories in Siege Battle

TASK_1083
Man of Steel

Get 100 wins in Hero Arena (Bot Match excluded)

TASK_1331
MVP Ⅰ

Get 1000 likes
Stats
| API Name | Display Name | Default Value |
| --- | --- | --- |
| TASK_830_STAT | Leadership Ⅰ | 0 |
| TASK_836_STAT | Invincible Hero | 0 |
| TASK_839_STAT | Warlord Hero | 0 |
| TASK_842_STAT | Warrior Leader | 0 |
| TASK_844_STAT | archer Leader | 0 |
| TASK_846_STAT | Rider Leader | 0 |
| TASK_832_STAT | Leadership Ⅱ | 0 |
| TASK_857_STAT | Groom Ⅰ | 0 |
| TASK_858_STAT | Skin Collector Ⅰ | 0 |
| TASK_861_STAT | Primary Weapon Collector Ⅰ | 0 |
| TASK_865_STAT | Back Accessory Collector Ⅰ | 0 |
| TASK_868_STAT | Shield Collector Ⅰ | 0 |
| TASK_864_STAT | Secondary Weapon Collector Ⅰ | 0 |
| TASK_860_STAT | Skin Collector Ⅱ | 0 |
| TASK_863_STAT | Primary Weapon Collector Ⅱ | 0 |
| TASK_867_STAT | Back Accessory Collector Ⅱ | 0 |
| TASK_853_STAT | Rider Companion Ⅰ | 0 |
| TASK_954_STAT | Millionaire Ⅰ | 0 |
| TASK_956_STAT | Millionaire Ⅱ | 0 |
| TASK_1030_STAT | Battlefield King Ⅰ | 0 |
| TASK_1031_STAT | Battlefield King Ⅱ | 0 |
| TASK_1032_STAT | Battlefield King Ⅲ | 0 |
| TASK_1046_STAT | Ever Victorious Army | 0 |
| TASK_1047_STAT | Ever Victorious Army Ⅱ | 0 |
| TASK_1035_STAT | Restless | 0 |
| TASK_1039_STAT | Restless Ⅱ | 0 |
| TASK_1043_STAT | World Shaker | 0 |
| TASK_1050_STAT | Easy As Pie Ⅰ | 0 |
| TASK_1051_STAT | Easy As Pie Ⅱ | 0 |
| TASK_1052_STAT | Easy As Pie Ⅲ | 0 |
| TASK_1054_STAT | Super Killer Ⅰ | 0 |
| TASK_1055_STAT | Super Killer Ⅱ | 0 |
| TASK_1056_STAT | Super Killer Ⅲ | 0 |
| TASK_1058_STAT | Support Master Ⅰ | 0 |
| TASK_1059_STAT | Support Master Ⅱ | 0 |
| TASK_1060_STAT | Support Master Ⅲ | 0 |
| TASK_1062_STAT | Pledge Power Ⅰ | 0 |
| TASK_1063_STAT | Pledge Power Ⅱ | 0 |
| TASK_1064_STAT | Pledge Power Ⅲ | 0 |
| TASK_1066_STAT | Falcon Strike Ⅰ | 0 |
| TASK_1067_STAT | Falcon Strike Ⅱ | 0 |
| TASK_1068_STAT | Falcon Strike Ⅲ | 0 |
| TASK_1070_STAT | Shadow Raider Ⅰ | 0 |
| TASK_1071_STAT | Shadow Raider Ⅱ | 0 |
| TASK_1072_STAT | Shadow Raider Ⅲ | 0 |
| TASK_1074_STAT | All-conquering | 0 |
| TASK_1075_STAT | All-conquering Ⅱ | 0 |
| TASK_1083_STAT | Man of Steel | 0 |
| TASK_1331_STAT | MVP Ⅰ | 0 |