Optimization update!
There is some news with this update!
Next month Bunny Parking is coming to Xbox One! There will be additional anouncement for it.
And for the recent months we were working on porting Bunny Parking to console that include some big optimization work.
And we glad to bring these optimizations to Steam.
On low spec PCs (minimum requirements) we significantly increased fps from 15-20 to smooth 25-35
You need to reapply the quality settings in the menu to be able to see the difference.
Credits:
We made additions to the credits as we totally forgot about our translators (sorry!!!)
Now you could be see 2 new names.
Also we
change the way you ride on the car. Now you need just to touch it and you will be automatically attached to the availalbe slot on the car (there are 4 of them).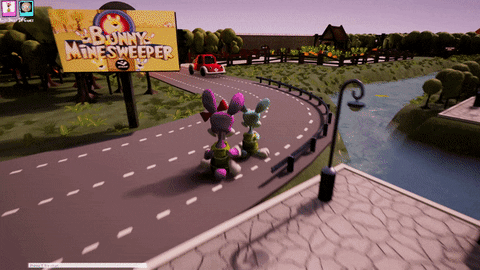 Important:
You cannot be attached to the car if you are jumping
You cannot be attached before the Portal
You'll be detached before the Portal, in case of car crash, or if you jump
we changed the way a car goes from one portal to another
we change the way the car breaks
removed working second parking. Now no cars will go there
reduced number of textures replacing them with atlases
significantly reduced network load - clients should be more smooth now.
P.S.: Bunny Parking price is going to be slightly increased soon.