Deck of Ashes is on sale for 20% of its normal price for a limited time on Steam!
Halloween Carnival is a time-limited event available from October 28 to November 11
It's cold out there. The darkness took over the kingdom of humans. The citizens locked themselves in their homes. The most outlawed robbers began their ritual, an ancient feast to honor the dark spirits. Led by spirits, the robbers changed their appearance and absorbed the forces of ancient evil.
HOW TO PLAY
The event will begin as soon as you launch it. Ash Master will talk to you and show you the right way...
NOTE: To start the event, click on the corresponding picture in the upper right corner of the main menu.
NEW CONTENT
Halloween brought us a lot of new content. Let's start with the visual design :)
Updated game backgrounds with unique new animations;
New skins for Lucian, Sly and Buck, which will be added to the Supporter pack after the event;
New skins for human enemies.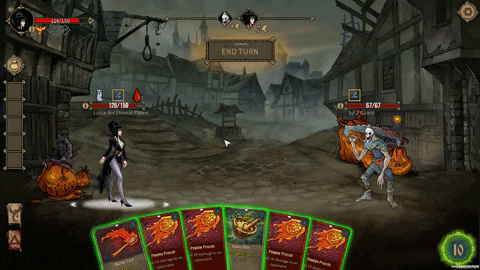 NEW CARDS
Who even needs events without new cards?
6 new cards were added (2 per character). How to get them: recipes can be received in all common ways.
BOSSES UPDATE
Lady Death was originally created as the boss leading the battle to exhaustion. We are revisiting this mechanics, changing the dynamics of the battle. The battle with the final boss will become faster, tougher and more interesting.
Now, during each phase of the battle, Lady Death calls upon the servants only once per battle;
New ability: Players take twice as much damage as 1 round;
Damage dealt by Lady Death is increased.
King Octavius
The false god had not been able to boast for a relatively long time compared to other bosses. We slightly make Octavius stronger.
Octavius now inflicts two bleedings instead of one;
Octavius's summoned monsters have become stronger and more dangerous.
OTHER CHANGES
Genetrix: The Low Immunity skill no longer affects the entire deck, but only 3 random cards. In addition, cards created by the infected ones are now fragile and will disappear after the end of the battle. Also, the passive healing ability has been changed - now the treatment works only every 3 turns.
We're increasing Haron's influence on Buck's gameplay: Rage cards can now be played several times in a fight.
We are on social media:
FACEBOOK - fresh content every day!
DISCORD - discuss your deck with the community
INSTAGRAM - plenty of animated monsters :)
TWITTER - stay in touch with us!