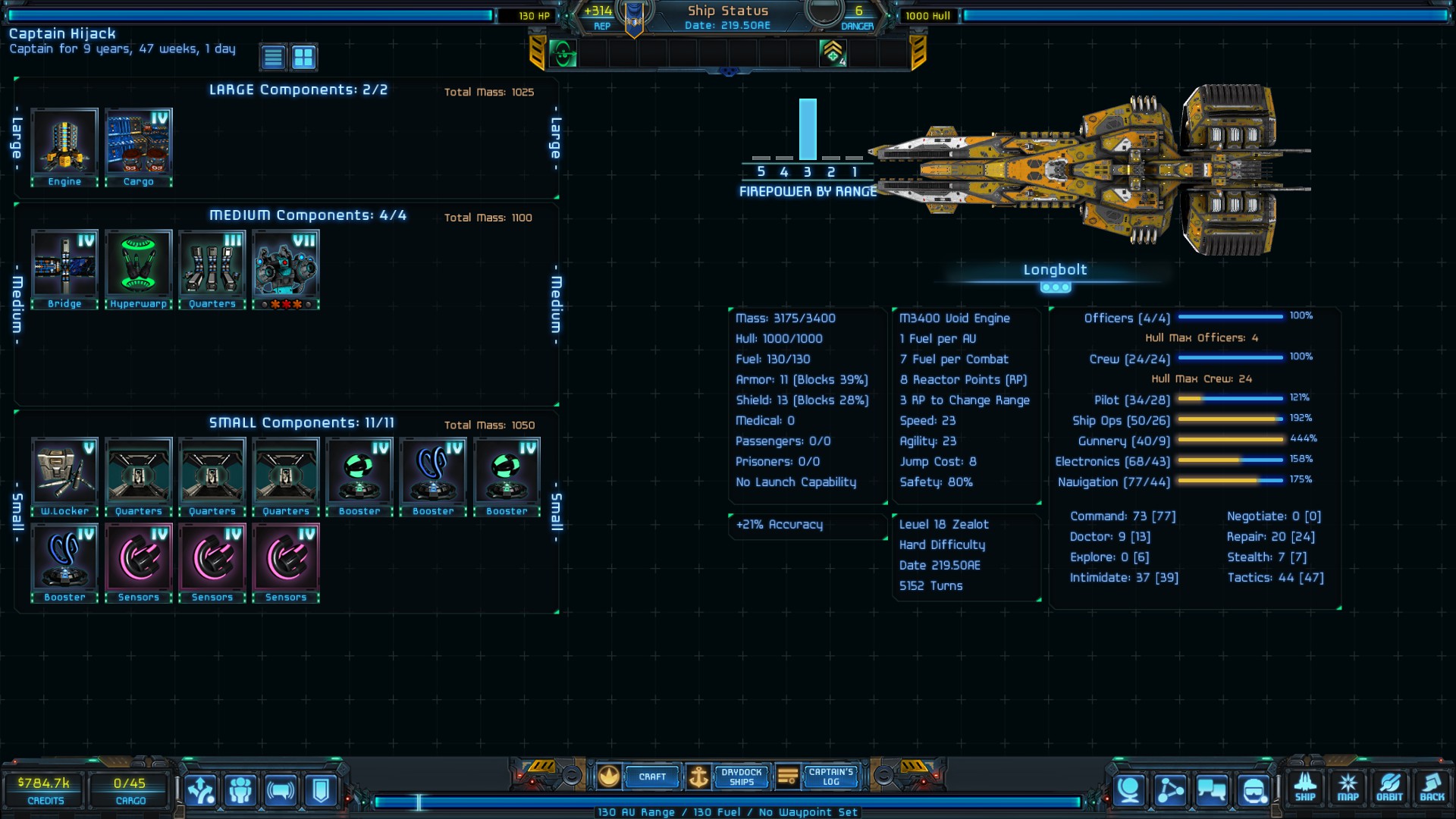 Update #171 rolls out with some exciting new changes to how Contact Traits can affect Missions, a second round of QoL improvements to Mission offers, sharpening the teeth of all crew and ship danger cards in operations, better weighting for xeno-related missions and more!
If you're enjoying the pace of updates, please tell a friend and leave a review!
Contact Traits have gained some new teeth with Update #171. Unknown Traits can now keep some of a Contact's true agendas hidden until they are known. The first type of Trait-Mission relationship like this is in the Cult Leader Trait, the Xeno Obsessed Trait and the Collector Trait.
Much like recruit bonuses from Traits which only function when the Trait is known, these Traits now add special types of Missions once they are known. Once your Contact has let you in on the secret that he or she is dabbling in a cult, they're willing to start asking you to help them with that secretive side of their life. In this case, a new Mission is available that will ask you to gather Terrox Artifacts through xeno ship combat, exploring, salvaging or however and stash them on a wilderness world for the Contact's agents.
This new branch of the Contact Trait hidden impacts has a lot of potential and we can't wait to see more Trait-Mission combos added over the coming updates!
Finally in other xeno-related news, we've also adjusted the weighting on the Xeno Hunter mission giver to make it more likely that the focus will be on missions to hunt down and destroy xeno.
Operational Dangers!
Across the board, the cards that warn of ship or crew danger have gained in power in both Orbital Ops and Exploration. These cards can be at times easy to avoid if you have enough of the right Skill saving Talents on hand. But now, they have some more serious teeth and if you fail to save them you're going to feel it. A few fails in these common cards can send a crew back to a landing zone for some R&R. These changes help shift more value into the ship components that can pull the teeth out of these cards by mitigating crew and ship damage in ops.
Improved Mission Offers
Based on feedback from players (thanks @gravling) we've doubled down on the improvements to the mission offering screen. It now shows the total jumps and offered price of the mission, as well as the distance of the first jump. If the mission is one-way, meaning that all of the jumps lead to a single destination and there is no return trip, this is also noted in the mission offer. These extra details in the summary will help players stay out of the extended mission description. We'll keep grinding on improving this section as we go!
Trade Alliances and Permits
We've updated the rules for Trade Permits in Trade Alliances and fixed a long time bug. The bug was allowing honoring of permits up to grade 4 when the rules stated only grade 2. We've met in the middle here, allowing Trader Permits to honor up to grade 3 and fixed an issue with the logic on grade 1 permits always being counted as 2.
Missions and Stories
We've made some important tweaks with Update #171 to specific missions and stories. We've fixed a faction mismatch in the "Smuggler Snatch" Mission. We've also doubled the timeline for the "Call of the Strong" Mission, basically making Commander Axeil far more patient.
And of course, a lot more. Check out the full release notes below!
v2.5.77 - 8/3/2019
New Contact Trait specific Mission Types - Stash Xeno Artifacts
Contacts with "Cult Leader", "Xeno Obsessed" and "Collector" Traits may ask you to find xeno artifacts for them, if you know the Trait
Introduces new "hidden agenda" missions pattern based on Trait knowledge
Improved mission offer display to show both total mission jumps and price as well as distance to first step
Mission offer summary now calls out missions that are one-way -- you jump out to the destination but are not paid to return
Improved power of Trade Alliances and Trade Permits -- factions will now honor up to grade 3 Permits
Doubled storyline timeline for "Call of the Strong" storyline
Improved faction targeting and description of "Smuggler Snatch" mission type
Adjusted penalty to selling price on indie worlds to be -10%
Improved the weighting of Xeno Hunter mission types to focus more on xeno
Increased danger from Crew / Ship Danger rolls in Orbit and Exploration
Fixed bug with "Bandit" Trait allowing more than 3 character Traits to jack the bonus above 30%
Fixed some Salvage cards that were not reporting loss of Rank/Permit/Edict due to Rep loss
Clarified time required to remove Trait through Contact Trait Reconditioning Service
Fixed bug where a anti-xeno Mission might be shown as assigned against another faction
Fixed Rare Trade Good counter in character template creation when selecting contacts
Fixed Crew Combat log bug that caused initial target's defensive stats to be printed for every target in AOE attacks
Fixed display bug showing negative ship component damage under some circumstances