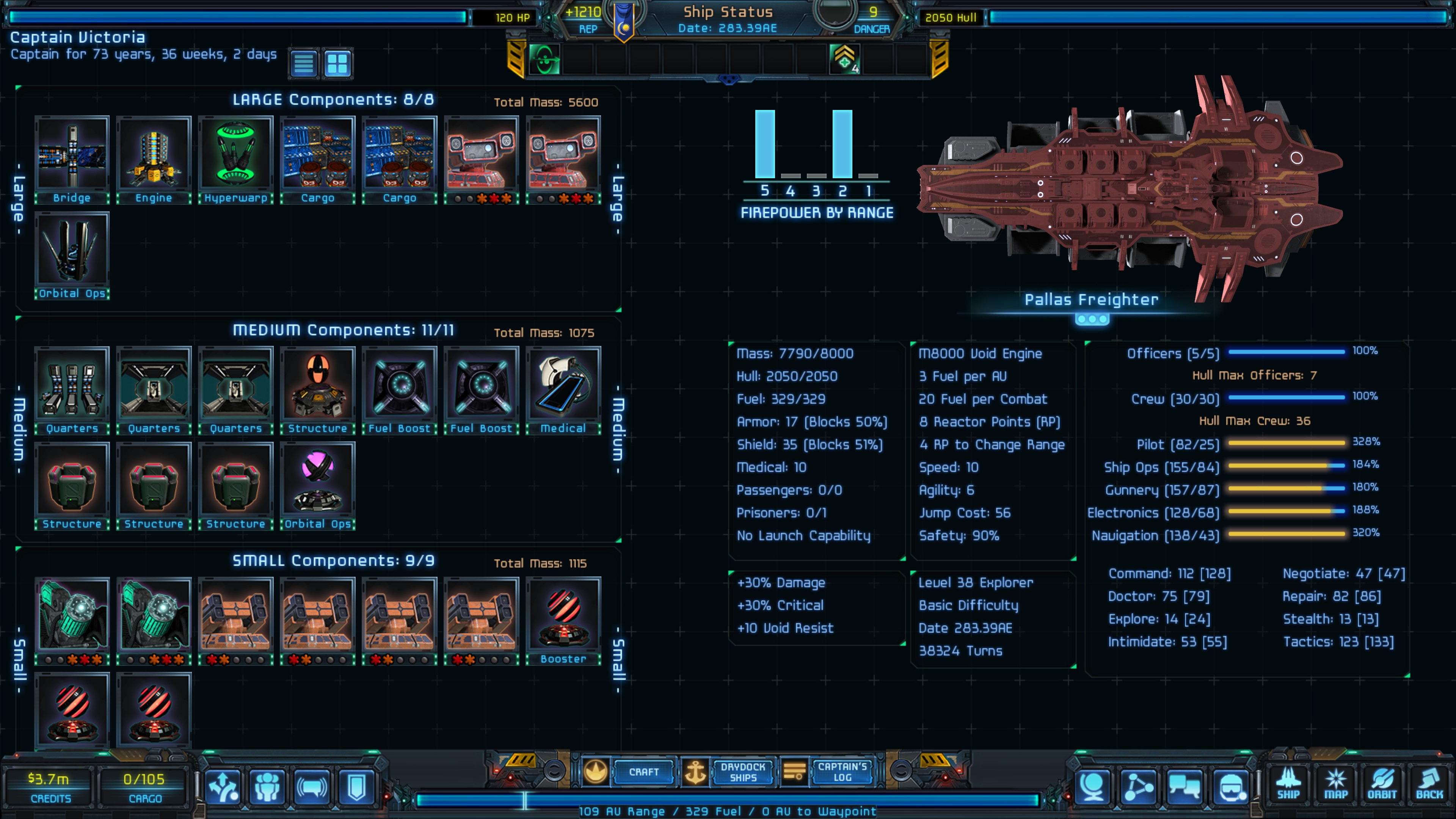 Update #168 rolls out in the heat of the end of July, bringing another new ship, a major redesign to the Sword Cutter, improvements for some faction-specific ship components and some major player-driven improvements to the mission offer and current mission lists. We're also grinding through some balance tasks across all of the card games.
If your'e enjoying the game or the pace of updates, please consider leaving a review and telling a friend!
Warmaster Victus Interceptor
The Victus Interceptor is the premier construction template for the fifth generation Juror class solar yacht. The Victus is a sleek, efficient vessel with very flexible operational capabilities for a ship of its mass. The hull's architecture is was planned to save mass and hull at every step which makes two small craft bays possible.
Boasting a famous knife-like design and a bold black-and-red color scheme, the Victus is a favorite of those captains who love to terrify their opponents. Access to the ship requires the Warmaster unlock.
Mission Estimations
With Update #168 we've made some very helpful improvements to the Mission offer and current list of Missions. First, we've removed all inconsistencies between the two screens. There were fields (price and distance) that were not shared cleanly between the two -- now they are all. Also, we've ensured the price and distance calculations for each mission include the sum total of all steps. If the missions summary on the left states "2 jumps" it is correctly counting the 1 jump there and the 1 jump back. Once the mission is accepted, you'll see the same summary in the current Missions list.
Faction-specific Ship Components
With some great input from the community, we've made some changes to ship components -- thanks @peterbbesen! The Mass on Zenrin-only "Armored Officer Suites" has been fixed to 225. We've added Void and Radiation resistances to both the Cadar Shielded Barracks 4 and the Alta Mesa Reinforced Fuel Pod to set them apart from stock options. The Alta Mesa Reinforced Fuel Tank (medium) has also gained a small Fuel bonus as well as some Pilot and Electronics Skill Pool bonuses to help stay competitive.
Card Game Balancing
Across the wide world of operations, we've made a ton of changes. Many are for the moment in the form of higher XP bonuses for critical actions, like ending or reducing Rumors timeline (Quarantine) or for the card that uncovers a new Rumor. In the Black Market, learning a new Contact or uncovering a new Rumor will also yield higher XP rewards.
If you're salvaging, the time and fuel cost of crew risk cards has gone up.
We've also made some Rumors more impactful on the Black Market -- the Ion Storm system Rumor and Civil Unrest zone Rumor now make the Black Market significantly easier to reach.
v2.5.71 - 7/25/2019
New Ship: Victus Interceptor (3400M, Warmaster Unlock)
Improved Mission offer and accepted missions list -- correct jump count and price always shown on both, local missions marked as such
Redesigned and repriced Sword Cutter from 800K to 480K
Improved Cadar "Shielded Barracks 4" with Void and Rad Resist
Improved Alta-Mesa only "Reinforced Fuel Tank" with +2 Pilot, +2 Electronics and +4 Fuel
Improved Alta-Mesa only "Reinforced Fuel Pod" component with Void and Rad Resist
Fixed incorrect Mass on Zenrin-only Armored Officer Suites medium component
Changed classification of Kloxian Reaver and Cognisense Balm
Orbital Ops: Increased XP bonus for ending a Quarantine Rumor by 100%
Orbital Ops: Increased XP bonus for reducing a Quarantine Rumor by 50%
Orbital Ops: Increased XP bonus for uncovering a Rumor by 20%
Increased Turns and Fuel used when Crew are injured during Salvage operations
Black Market: Increased XP bonus for uncovering a Rumor by 200%
Black Market: Added major XP bonus for uncovering a new Contact
Reduced Crew morale loss during Black Market failures by 20%
Civil Unrest Rumor now makes Black Market access considerably easier
Ion Storm Rumor makes Black Market access considerably easier