This update to Winkeltje introduces a new shop sign and Specialization tab in the Overview menu. Together they help communicate how your shop is specialized based on how you are running your shop. As a reminder: To specialize your shop you simply have to sell items of your preferred specialization. After a few days, the customers will understand what you want to sell and will adjust their requests accordingly. The tab in the Overview menu will help communicate which items belong to what specializations and the sign outside your shop will reflect what store you are running.
A shop is considered specialized if 70% or more of the items sold in the last 5 days belong to the same category.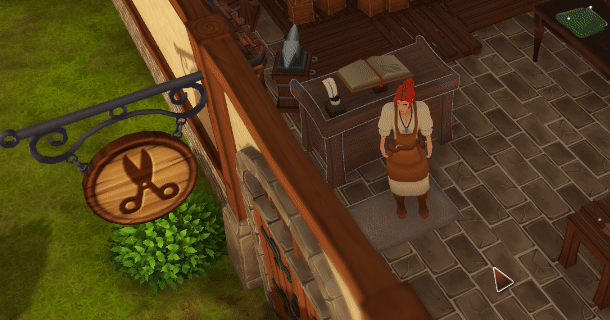 With summer upon us and internships coming to an end the team is saying goodbye to SailorOfMyVessel. He has been a valuable part of the team in the period from approximately Early Access until now. Most of his responsibilities came down to community management and game balancing but that did not keep him from improving many more aspects of Winkeltje. This departure and the impending summer holidays will unfortunately mean that upcoming updates may be a bit slimmer and sparse.
Read SailorOfMyVessel's goodbye note here: https://steamcommunity.com/app/949290/discussions/0/1639789306572835981/
Beyond this update there are some cool things in the works but these take some time to come to fruition. For now, please enjoy these changes available in Winkeltje today.
Balance
Events - Increased the desire for clothes during King's Day for general stores.
Traders - Traders now always carry crafting resources, they also carry more crafting resources.
Traders - Greatly improved the minimal amount of items traders carry at later levels, marginally improved the maximum amount.
User Interface
Shop Specialization - Added Specialization tab to Overview menus.
UI - Words that are too long for the radial menu will now be placed on a new line if possible or will use a smaller font size if a new line is not possible.
UI - It is now possible to dismiss the trader.
Bug Fixes
AI - Customers now no longer moonwalk when they've already left.
AI - Displays are now randomized before a customer chooses one to go to.
Coins - Game wont try to spawn a coin pouch with 0 silver when in creative mode anymore.
Cursor - Hovering over planters in Shopbuilder will no longer show a glitchy cursor.
Planter - Picking up a planter should no longer show or update the farming cursor graphic.
Shopbuilder - Added additional check to make sure wall placement is correctly in bounds of the grid.
Shopbuilder - Camera can now be controlled with WASD or arrow keys again.
Tutorial - Tutorial would soft lock if you would place a counter, sell it and then place it again.
UI - "Game Paused" string would not translate correctly.
UI - Year & Day strings now translate correctly in the main menu.
UI - A value change of 0% in the buy menu will now use white text.
UI - The UI is no longer using solid green as it could cause some graphical issues with streamers using green screens.
Languages
Italian - Game is now available in Italian - Thanks to Marcello Brancaccio.
Brazilian Portuguese - Not listed as a supported language due to falling below 80% finished rate.
Latin American Spanish - Not listed as a supported language due to falling below 80% finished rate.
Spanish - Not listed as a supported language due to falling below 80% finished rate.