| | |
| --- | --- |
| App ID | 108600 |
| App Type | Game |
| Developer | The Indie Stone |
| Publisher | The Indie Stone |
| Supported Systems | Windows macOS Linux |
| Last Change Number | 12589309 |
| Last Record Update | 16 September 2021 – 19:43:25 UTC () |
| Release Date | 8 November 2013 () |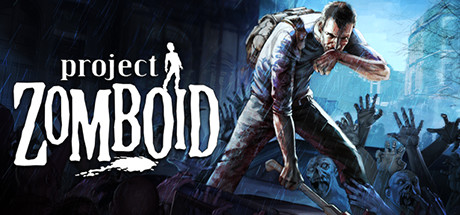 Project Zomboid is the ultimate in zombie survival. Alone or in MP: you loot, build, craft, fight, farm and fish in a struggle to survive. A hardcore RPG skillset, a vast map, a massively customisable sandbox and a cute tutorial raccoon await the unwary. So how will you die? All it takes is a bite…
Currency
Current Price
Converted Price
Lowest Recorded Price
U.S. Dollar
$14.99
$14.99
$8.99
$8.99 at

-40%

British Pound
£9.99
$13.65
-8.93%
$8.18
£5.99 at

-40%

Euro
13,99€
$16.41
+9.48%
$9.84
8,39€ at

-40%

Russian Ruble
299 ₽
$4.07
-72.82%
$2.43
179 ₽ at

-40%

Brazilian Real
R$ 24,98
$4.68
-68.72%
$2.81
R$ 14,98 at

-40%

Japanese Yen
¥ 1480
$13.53
-9.73%
$8.11
¥ 888 at

-40%

Indonesian Rupiah
Rp 115999
$8.12
-45.81%
$4.87
Rp 69599 at

-40%

Malaysian Ringgit
RM31.00
$7.39
-50.67%
$4.43
RM18.60 at

-40%

Philippine Peso
₱419.95
$8.37
-44.15%
$5.02
₱251.97 at

-40%

Singapore Dollar
S$15.00
$11.10
-25.95%
$6.66
S$9.00 at

-40%

Thai Baht
฿315.00
$9.44
-37.01%
$5.66
฿189.00 at

-40%

Vietnamese Dong
165000₫
$7.25
-51.59%
$4.35
99000₫ at

-40%

South Korean Won
₩ 16000
$13.48
-10.07%
$8.08
₩ 9600 at

-40%

Turkish Lira
₺24,00
$2.76
-81.54%
$1.66
₺14,40 at

-40%

Ukrainian Hryvnia
229₴
$8.57
-42.82%
$0.56
14,99₴
Mexican Peso
Mex$ 149.99
$7.45
-50.28%
$4.47
Mex$ 89.99 at

-40%

Canadian Dollar
CDN$ 16.99
$13.26
-11.53%
$7.95
CDN$ 10.19 at

-40%

Australian Dollar
A$ 21.50
$15.61
+4.17%
$9.36
A$ 12.90 at

-40%

New Zealand Dollar
NZ$ 17.99
$12.66
-15.52%
$7.59
NZ$ 10.79 at

-40%

Norwegian Krone
100,00 kr
$11.46
-23.48%
$6.88
60,00 kr at

-40%

Polish Zloty
53,99zł
$13.75
-8.27%
$8.24
32,39zł at

-40%

Swiss Franc
CHF 15.00
$16.16
+7.87%
$9.70
CHF 9.00 at

-40%

Chinese Yuan
¥ 48
$7.42
-50.48%
$4.33
¥ 28 at

-42%

Indian Rupee
₹ 479
$6.50
-56.62%
$3.89
₹ 287 at

-40%

Chilean Peso
CLP$ 7500
$9.50
-36.59%
$5.70
CLP$ 4500 at

-40%

Peruvian Sol
S/.39.95
$9.70
-35.26%
$5.82
S/.23.97 at

-40%

Colombian Peso
COL$ 32000
$8.37
-44.14%
$5.02
COL$ 19200 at

-40%

South African Rand
R 159.00
$10.76
-28.18%
$6.45
R 95.40 at

-40%

Hong Kong Dollar
HK$ 99.00
$12.71
-15.19%
$7.62
HK$ 59.40 at

-40%

Taiwan Dollar
NT$ 398
$14.31
-4.53%
$8.55
NT$ 238 at

-40%

Saudi Riyal
47.00 SR
$12.53
-16.39%
$7.51
28.20 SR at

-40%

U.A.E. Dirham
46.00 AED
$12.52
-16.45%
$7.51
27.60 AED at

-40%

Argentine Peso
ARS$ 179,99
$1.82
-87.80%
$1.09
ARS$ 107,99 at

-40%

Israeli New Shekel
₪55.95
$17.42
+16.22%
$10.45
₪33.57 at

-40%

Kazakhstani Tenge
2400₸
$5.62
-62.48%
$3.37
1440₸ at

-40%

Kuwaiti Dinar
2.80 KD
$9.30
-37.93%
$5.58
1.68 KD at

-40%

Qatari Riyal
33.99 QR
$9.33
-37.72%
$5.60
20.39 QR at

-40%

Costa Rican Colon
₡6500
$10.41
-30.53%
$6.24
₡3900 at

-40%

Uruguayan Peso
$U329
$7.70
-48.62%
$4.61
$U197 at

-40%

CIS - U.S. Dollar
$9.99
$9.99
-33.36%
$5.99
$5.99 at

-40%

South Asia - USD
$6.99
$6.99
-53.37%
$4.19
$4.19 at

-40%
Click on a currency name to load price history for that currency.
Valve suggested prices are displayed on packages page.
Initializing price history graph…
User Tags
Survival
Zombies
Open World
Open World Survival Craft
Sandbox
Multiplayer
Post-apocalyptic
Indie
Crafting
Simulation
Co-op
RPG
Building
Survival Horror
Isometric
Early Access
Realistic
Singleplayer
2D
Adventure
4,766 players right now
6,775 24-hour peak
8,534 all-time peak
Copy this code and paste it into your website:
<iframe src="https://steamdb.info/embed/?appid=108600" height="389" style="border:0;overflow:hidden;width:100%"></iframe>
High-resolution Steam charts
Initializing graph of a week…
Lifetime concurrent players on Steam
Due to constant crawling, this data is limited. You can login to view full data.
Initializing graph of a year…
Concurrent players
4,766 players right now
6,775 24-hour peak
8,534 all-time peak
Store data
190,796 followers
#164 in top sellers
41,620 positive reviews
4,712 negative reviews
89.83% positive reviews
Playtime estimations by SteamSpy
5.4 hours median playtime in last 2 weeks
7.2 hours median total playtime
5.2 hours average playtime in last 2 weeks
24.8 hours average total playtime
Twitch Stats
15,045 viewers right now
19,816 24-hour peak
67,908 all-time peak
Steam game hub followers chart
Initializing followers chart…
Monthly breakdown
| Month | Peak | Gain | % Gain | Min Daily Peak | Avg Daily Peak | Twitch Peak |
| --- | --- | --- | --- | --- | --- | --- |
How many players are playing Project Zomboid right now on Steam? There are 4,766 players in Project Zomboid on Steam. Project Zomboid player counter. Project Zomboid Steam charts.
Bundles that include this app
| ID | Name | % | | Created |
| --- | --- | --- | --- | --- |
| 10955 | Survival Management Bundle | -20% | No | 15 May 2019 – 05:02:06 UTC |
Packages that include this app
| SubID | Name | Billing Type | Last Update |
| --- | --- | --- | --- |
| 8576 | Indie Stone Studios Comp | CD Key | 24 November 2015 – 18:58:24 UTC |
| 8738 | Project Zomboid Retail | CD Key | 14 May 2019 – 04:11:54 UTC |
| 17906 | Anonymous Dedicated Server Comp | No Cost | 19 September 2021 – 23:32:07 UTC |
| 34371 | Project Zomboid | Store | 27 May 2021 – 17:00:36 UTC |
| 44161 | Project Zomboid Gift | Gift | 30 June 2021 – 18:22:03 UTC |
| 44163 | Project Zomboid 4-Pack | Store or CD Key | 27 May 2021 – 17:00:36 UTC |
Want to highlight which packages you own? Install our browser extension
Depots
ID
Name
Max Size
OS
Extra Info
228983
VC 2010 Redist
18.37 MiB

Shared Install

Depot from 228980
228984
VC 2012 Redist
13.11 MiB

Shared Install

Depot from 228980
228985
VC 2013 Redist
13.06 MiB

Shared Install

Depot from 228980
228986
VC 2015 Redist
28.38 MiB

Shared Install

Depot from 228980
228987
VC 2017 Redist
28.29 MiB

Shared Install

Depot from 228980
108602
Project Zomboid Mac Depot
3.84 GiB
108603
Project Zomboid Linux Depot
3.98 GiB
108604
Project Zomboid Windows Depot
3.96 GiB
108601
Project Zomboid Shared Depot
No size

Unused
Branches
Other
| Name | Value |
| --- | --- |
| overridescddb | 1 |
| markdlcdepots | 1 |
| workshopdepot | Project Zomboid (108600) |
Raw Information
You have to be signed in to load raw depot data
Launch Options
0. 32 Bit
| | | |
| --- | --- | --- |
| Executable | ProjectZomboid32.exe | |
| Launch Type | Launch (Default) | |
| Operating System | windows | |
| CPU Architecture | 32-bit only | |
1. Unnamed launch option
| | | |
| --- | --- | --- |
| Executable | Project Zomboid.app | |
| Launch Type | Unspecified | |
| Operating System | macos | |
2. Unnamed launch option
| | | |
| --- | --- | --- |
| Executable | projectzomboid.sh | |
| Launch Type | Unspecified | |
| Operating System | linux | |
4. Compatibility Mode
| | | |
| --- | --- | --- |
| Executable | projectzomboid.sh | |
| Arguments | -safemode | |
| Launch Type | Unspecified | |
| Operating System | linux | |
5. Compatibility Mode
| | | |
| --- | --- | --- |
| Executable | Project Zomboid.app | |
| Arguments | -safemode | |
| Launch Type | Unspecified | |
| Operating System | macos | |
7. Compatibility Mode
| | | |
| --- | --- | --- |
| Executable | ProjectZomboid32.exe | |
| Arguments | -safemode | |
| Launch Type | Unspecified | |
| Operating System | windows | |
| CPU Architecture | 32-bit only | |
8. 64 Bit
| | | |
| --- | --- | --- |
| Executable | ProjectZomboid64.exe | |
| Launch Type | Launch (Default) | |
| Operating System | windows | |
| CPU Architecture | 64-bit only | |
9. Compatibility Mode
| | | |
| --- | --- | --- |
| Executable | ProjectZomboid64.exe | |
| Arguments | -safemode | |
| Launch Type | Unspecified | |
| Operating System | windows | |
| CPU Architecture | 64-bit only | |
Configuration
| Key | Value |
| --- | --- |
| contenttype | 3 |
| installdir | ProjectZomboid |
User File System
| Key | Value |
| --- | --- |
| quota | 953.67 MiB (1000000000) |
| maxnumfiles | 1000 |
| hidecloudui | 1 |
| ignoreexternalfiles | 1 |
Other apps that reference this app
Loading…
History
Crunching history, just for you…

Level 1
Death by Stairs

Level 2
Death by Oven Fire

Level 3
Death by Smothering

Level 4
Death by Bleach

Level 5
Blaze of Glory

Level foil
Ain't Dead Yet

Booster pack 1
Technical Item Data
Item key values
level_images/1: 66905fd3c6a96cb29eaefa289402f6685b1200ca.png
level_images/2: b1d4a9375f03feb775bb8137f198ac52824c1d2c.png
level_images/3: 9fa97a21dea281b08f3bca775721a3294e65e5f8.png
level_images/4: 54d7c59108a79e3e0f928d305652a49c4a5d0141.png
level_images/5: 62e1d432e1e44236ee448d905796875fbdc1e04b.png
level_images/foil: 02e40eabf249ad4c4e46750fbce7008f05b80145.png
level_names/1: Death by Stairs
level_names/2: Death by Oven Fire
level_names/3: Death by Smothering
level_names/4: Death by Bleach
level_names/5: Blaze of Glory
level_names/foil: Ain't Dead Yet
Item data
active: true
item_class: 1
item_description:
item_image_large:
item_image_small:
item_last_changed: 1394306633
item_movie_mp4:
item_movie_mp4_small:
item_movie_webm:
item_movie_webm_small:
item_name:
item_series: 1
item_title:
type: 1
Item data
active: true
item_class: 2
item_description:
item_image_composed: IzMF03bk9WpSBq-S-ekoE33L-iLqGFHVaU25ZzQNQcXdA3g5gMEPvUZZEfSMJ6dESN8p_2SVTY7V2NgPzHUMmChCIzb02CledexqPsSN1A3-6sSEG3zjbSWCJizYG1s1S7ReMGDb9jrzse3HQDDOR-0kRwhQK6NV-zAdb87bOEA5gYZZ-WPgxAptEBFucMpUdAqp9X0eMLoglXUTIZsHmybzIZWKhVhnbBM8C-vuV7nFatKhlSwiXB1jHaFPZ4rA7iDyuMmmfLGLL1HiD1Gy
item_image_composed_foil: IzMF03bk9WpSBq-S-ekoE33L-iLqGFHVaU25ZzQNQcXdA3g5gMEPvUZZEfSMJ6dESN8p_2SVTY7V2NgPzHUMmChCIzb02CledexqPsSN1A3-6sSEG3zjbSWCJizYG1s1S7ReMGDb9jrzse3HQDDOR-0kRwhQK6NV-zAdb87bOEA5gYZZ-WPgxAptEBFucMpUdAqp9X0eMLoglXYRJJpUnCOjIZeKjV1nPRI8DOrkBbXEbYLwmC0lXU5lH_ITZImWvnHyuMmmfLGLLzdkYxiU
item_image_large: edcc9a23b4f5b5366910dbc2f9721cd1581fca39.jpg
item_image_small: 67058289fd0c28765841df1a9ddb7b7b4e1b2f83.png
item_last_changed: 1394226039
item_movie_mp4:
item_movie_mp4_small:
item_movie_webm:
item_movie_webm_small:
item_name: Spiffo the Fighter
item_series: 1
item_title: Spiffo the Fighter
type: 2
Item data
active: true
item_class: 2
item_description:
item_image_composed: IzMF03bk9WpSBq-S-ekoE33L-iLqGFHVaU25ZzQNQcXdA3g5gMEPvUZZEfSMJ6dESN8p_2SVTY7V2NgPzHUMmChCIzb02CledexqPsSN1A3-6sGFGXKxYTrFKCSETFw6SeENZzze_DOh4OmcQDrPEO9-F10BfKoHoDYfPMndNhZr3dJZ8yuomUM7HBk6dsBUTwa2y3MWbOkkzHEXd5lRniWjJpPcgQo0ORVjW73gU-_GaoKjkSggXxsyHKFPMo6L-Hu77tH8aIHrKNn6
item_image_composed_foil: IzMF03bk9WpSBq-S-ekoE33L-iLqGFHVaU25ZzQNQcXdA3g5gMEPvUZZEfSMJ6dESN8p_2SVTY7V2NgPzHUMmChCIzb02CledexqPsSN1A3-6sGFGXKxYTrFKCSETFw6SeENZzze_DOh4OmcQDrPEO9-F10BfKoHoDYfPMndNhZr3dJZ8yuomUM7HBk6dsBUTwa2y3MWbOomyXBEcJwBniejLpbc0As0PhRpCbHhVL-XZ4OkkHsmXUhuH6IZYt-L-Hu77tH8aAOmGcIH
item_image_large: 7ba0ca83a03cd2c105b945aebd1134ff4cd3d5bf.jpg
item_image_small: 0b24bcbd7204548226a7bdd5183bbf10d94f9eb8.png
item_last_changed: 1394225876
item_movie_mp4:
item_movie_mp4_small:
item_movie_webm:
item_movie_webm_small:
item_name: Spiffo the Chef
item_series: 1
item_title: Spiffo the Chef
type: 3
Item data
active: true
item_class: 2
item_description:
item_image_composed: IzMF03bk9WpSBq-S-ekoE33L-iLqGFHVaU25ZzQNQcXdA3g5gMEPvUZZEfSMJ6dESN8p_2SVTY7V2NgPzHUMmChCIzb02CledexqPsSN1A3-6sOZFHjyfDKCJizYG1s1SedWYWja-mXzseuQRmvORbosEQsFLKcN-jJObMzbNxs50tUK-me-wwptEBFucMpUdAqp9X0eMLoglXUTIZsHmybzIZWKhVhnbBM8C-vuV7nFatKhlSwiXB1jHaFPZ4rA7iDyuMmmfLGLL0LjrFRu
item_image_composed_foil: IzMF03bk9WpSBq-S-ekoE33L-iLqGFHVaU25ZzQNQcXdA3g5gMEPvUZZEfSMJ6dESN8p_2SVTY7V2NgPzHUMmChCIzb02CledexqPsSN1A3-6sOZFHjyfDKCJizYG1s1SedWYWja-mXzseuQRmvORbosEQsFLKcN-jJObMzbNxs50tUK-me-wwptEBFucMpUdAqp9X0eMLoglXYRJJpUnCOjIZeKjV1nPRI8DOrkBbXEbYLwmC0lXU5lH_ITZImWvnHyuMmmfLGLL5PBrAZf
item_image_large: f063390b17acd5646b58281e13c8c1e109e28b6b.jpg
item_image_small: 4d8d034ffd644c74b0b21a598f7a5b8946b11bf4.png
item_last_changed: 1394225755
item_movie_mp4:
item_movie_mp4_small:
item_movie_webm:
item_movie_webm_small:
item_name: Spiffo the Athlete
item_series: 1
item_title: Spiffo the Athlete
type: 4
Item data
active: true
item_class: 2
item_description:
item_image_composed: IzMF03bk9WpSBq-S-ekoE33L-iLqGFHVaU25ZzQNQcXdA3g5gMEPvUZZEfSMJ6dESN8p_2SVTY7V2NgPzHUMmChCIzb02CledexqPsSN1A3-6seVDHj4ejLWaSjUHVltQLZeMGnQrGCi4LnCSz7IQLokEVwFdfdSpGwYOcGPahQ_goBar2HhlBwzDhgvNMdJYgu-2EsaPLwizXxGJM9SzCbyJZPY1l9lbUI_DOm0X73HaIT2lConWxtgG6IbMYiU7XPp5tevPeHAIPoR5_IFeA
item_image_composed_foil: IzMF03bk9WpSBq-S-ekoE33L-iLqGFHVaU25ZzQNQcXdA3g5gMEPvUZZEfSMJ6dESN8p_2SVTY7V2NgPzHUMmChCIzb02CledexqPsSN1A3-6seVDHj4ejLWaSjUHVltQLZeMGnQrGCi4LnCSz7IQLokEVwFdfdSpGwYOcGPahQ_goBar2HhlBwzDhgvNMdJYgu-2EsaPLwizXxFJspTnyH3dZPa1ldgbRM-DO61Ve_LaYOmxScmXBozHaBIbYuXuyO45tevPeHAIPoXuSguFQ
item_image_large: 4f1ccd9bcf27b412e8a9cccac4e710f92a43919a.jpg
item_image_small: 50519bc75df9611b8be18eff8a486e62f7add9c8.png
item_last_changed: 1394225946
item_movie_mp4:
item_movie_mp4_small:
item_movie_webm:
item_movie_webm_small:
item_name: Spiffo the Explorer
item_series: 1
item_title: Spiffo the Explorer
type: 5
Item data
active: true
item_class: 2
item_description:
item_image_composed: IzMF03bk9WpSBq-S-ekoE33L-iLqGFHVaU25ZzQNQcXdA3g5gMEPvUZZEfSMJ6dESN8p_2SVTY7V2NgPzHUMmChCIzb02CledexqPsSN1A3-6sGMDmTyZiPBPWfQEV9vGL5aMWGLrzOi5-uTRmqfEOEqEQFRLvRX8GBJP5zfOEE81dUNr2G6lBd_UAYmdYNEfx2_z2YsOLAkzyRPccoGmXHyJJfehAxib0NuD-62BbXDaoagwyshXhxmGKQYZd6WuXC6_YmxNKCQa_U1pk6LN9g
item_image_composed_foil: IzMF03bk9WpSBq-S-ekoE33L-iLqGFHVaU25ZzQNQcXdA3g5gMEPvUZZEfSMJ6dESN8p_2SVTY7V2NgPzHUMmChCIzb02CledexqPsSN1A3-6sGMDmTyZiPBPWfQEV9vGL5aMWGLrzOi5-uTRmqfEOEqEQFRLvRX8GBJP5zfOEE81dUNr2G6lBd_UAYmdYNEfx2_z2YsOLAkzyRPcsgDmCL1IcfehgxqakM_Du6xBL-RZoenk3osXxtnS6IaNoKVuibqrImxNKCQa_U16rGq_lU
item_image_large: 245ac0aecfe3b73c493e88c9035b4e3203a4fa2b.jpg
item_image_small: 449ba072674bfa96b8ecfc2402ef7c11b6ddbc3b.png
item_last_changed: 1394225822
item_movie_mp4:
item_movie_mp4_small:
item_movie_webm:
item_movie_webm_small:
item_name: Spiffo the Carpenter
item_series: 1
item_title: Spiffo the Carpenter
type: 6
Item data
active: true
item_class: 2
item_description:
item_image_composed: IzMF03bk9WpSBq-S-ekoE33L-iLqGFHVaU25ZzQNQcXdA3g5gMEPvUZZEfSMJ6dESN8p_2SVTY7V2NgPzHUMmChCIzb02CledexqPsSN1A3-6sSMDnnyenHNIiDeGQNtS-UMM22MrGClt-mXEzqdQrwlSgFWdKAH9mQaP8DabBs03YYMqDLq2VRzGVAqfddCdR2Ew3kSNrh4nCAWdc5Qmyf3J8fZglpmPRA7CbHmU7vHPIWgkyklWh5lHvUZZd7DvTuspsDnLPqEj9SpeBY
item_image_composed_foil: IzMF03bk9WpSBq-S-ekoE33L-iLqGFHVaU25ZzQNQcXdA3g5gMEPvUZZEfSMJ6dESN8p_2SVTY7V2NgPzHUMmChCIzb02CledexqPsSN1A3-6sSMDnnyenHNIiDeGQNtS-UMM22MrGClt-mXEzqdQrwlSgFWdKAH9mQaP8DabBs03YYMqDLq2VRzGVAqfddCdR2Ew3kSNrh4nyITdJ1Xnnf3JcfRh1o3PBA8CLu0X7rAbNStki4kCRhnTakaZoiT7DuspsDnLPqEcWucgJM
item_image_large: 9de574877e9a8c032a8b87a3668ac51887862f1d.jpg
item_image_small: e6fb65ebc0b43a2d3d998b92340c29cc99917c72.png
item_last_changed: 1394225993
item_movie_mp4:
item_movie_mp4_small:
item_movie_webm:
item_movie_webm_small:
item_name: Spiffo the Farmer
item_series: 1
item_title: Spiffo the Farmer
type: 7
Item data
active: true
animated: false
bundle_discount: 0
community_item_type: 8
defid: 2778
internal_description: Surrounded
item_class: 3
item_image_large: 1c74369a11dd6aa95d8579e5e75b17582ef05371.jpg
item_name: Surrounded
item_title: Surrounded
point_cost: 500
quantity: 1
timestamp_available: 0
timestamp_available_end: 0
timestamp_created: 1394140451
timestamp_updated: 1593643659
type: 1
usable_duration: 0
Item data
active: true
animated: false
bundle_discount: 0
community_item_type: 9
defid: 2782
internal_description: Kate
item_class: 3
item_image_large: 7c9d5ef9a943b820bc25f31f3c76b86a1e1b043f.jpg
item_name: Kate
item_title: Kate
point_cost: 500
quantity: 1
timestamp_available: 0
timestamp_available_end: 0
timestamp_created: 1394109199
timestamp_updated: 1593643659
type: 1
usable_duration: 0
Item data
active: true
animated: false
bundle_discount: 0
community_item_type: 10
defid: 2791
internal_description: Bobby
item_class: 3
item_image_large: 344e41ba217df578ae1cf26264213e8a30319bdb.jpg
item_name: Bobby
item_title: Bobby
point_cost: 500
quantity: 1
timestamp_available: 0
timestamp_available_end: 0
timestamp_created: 1394109235
timestamp_updated: 1593643659
type: 1
usable_duration: 0
Item data
active: true
animated: false
bundle_discount: 0
community_item_type: 11
defid: 2796
internal_description: Long Journey
item_class: 3
item_image_large: 20937dc6bd1963f7665ccd3f814b36692c036f4d.jpg
item_name: Long Journey
item_title: Long Journey
point_cost: 500
quantity: 1
timestamp_available: 0
timestamp_available_end: 0
timestamp_created: 1394109262
timestamp_updated: 1593643659
type: 1
usable_duration: 0
Item data
active: true
animated: false
bundle_discount: 0
community_item_type: 12
defid: 2806
internal_description: Come Get Some
item_class: 3
item_image_large: 17de3bcd974067f1d44e7b2edd3fe34673e167f6.jpg
item_name: Come Get Some
item_title: Come Get Some
point_cost: 500
quantity: 1
timestamp_available: 0
timestamp_available_end: 0
timestamp_created: 1394140250
timestamp_updated: 1593643659
type: 1
usable_duration: 0
Item data
active: true
animated: false
bundle_discount: 0
community_item_type: 13
defid: 2812
internal_description: Pillow
item_class: 4
item_image_large: 2dc53399888fedc015c06b2118f5e91545c48eb4.png
item_image_small: 2fdce8159dbd7eeaf4abdbffcb23fa203ec0f87b.png
item_name: :pillow:
item_title: :pillow:
point_cost: 100
quantity: 1
timestamp_available: 0
timestamp_available_end: 0
timestamp_created: 1394109344
timestamp_updated: 1593643659
type: 1
usable_duration: 0
Item data
active: true
animated: false
bundle_discount: 0
community_item_type: 14
defid: 2817
internal_description: Bleach
item_class: 4
item_image_large: 1b03060f04eef39838812e4314344fa9d17908c7.png
item_image_small: b46b4493784526847b10e25f6d1edffc1c3e8205.png
item_name: :bleach:
item_title: :bleach:
point_cost: 100
quantity: 1
timestamp_available: 0
timestamp_available_end: 0
timestamp_created: 1394109377
timestamp_updated: 1593643659
type: 1
usable_duration: 0
Item data
active: true
animated: false
bundle_discount: 0
community_item_type: 15
defid: 2820
internal_description: Dead Rat
item_class: 4
item_image_large: 4c0eccf49db55299178ae13681b9346a7e0e872b.png
item_image_small: 2a052759cb956065b7b30912c816cafbb76556fa.png
item_name: :deadrat:
item_title: :deadrat:
point_cost: 100
quantity: 1
timestamp_available: 0
timestamp_available_end: 0
timestamp_created: 1394109410
timestamp_updated: 1593643659
type: 1
usable_duration: 0
Item data
active: true
animated: false
bundle_discount: 0
community_item_type: 16
defid: 2825
internal_description: Cherry Pie
item_class: 4
item_image_large: 2958cd64cdbdbaf4f08a18c31464267057dc1d90.png
item_image_small: d8c7b414c15a49eaa34cacbabefb536626f26e6a.png
item_name: :cherrypie:
item_title: :cherrypie:
point_cost: 100
quantity: 1
timestamp_available: 0
timestamp_available_end: 0
timestamp_created: 1394109441
timestamp_updated: 1593643659
type: 1
usable_duration: 0
Item data
active: true
animated: false
bundle_discount: 0
community_item_type: 17
defid: 2832
internal_description: Spiffo
item_class: 4
item_image_large: 32b0eb9220a4424fbcb7d30cfc681b29b879ae8f.png
item_image_small: f9d9ad02a662e847b1ab1f425614643b77c7df35.png
item_name: :spiffo:
item_title: :spiffo:
point_cost: 100
quantity: 1
timestamp_available: 0
timestamp_available_end: 0
timestamp_created: 1394109470
timestamp_updated: 1593643659
type: 1
usable_duration: 0
Item data
active: true
item_class: 5
item_description:
item_image_composed: IzMF03bk9WpSBq-S-ekoE33L-iLqGFHVaU25ZzQNQcXdBnY7ltYLvVIHHqLGePAQF5xx5mnYWInWiYBMnGVPwXRTdzH13HhhBwDYcl4
item_image_large:
item_image_small:
item_last_changed: 1394308969
item_movie_mp4:
item_movie_mp4_small:
item_movie_webm:
item_movie_webm_small:
item_name:
item_series: 1
item_title:
type: 18